Alton Papers
History of Alton 1800-1850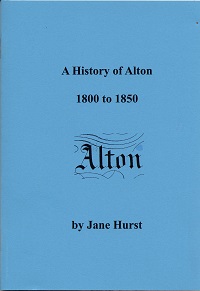 A History of Alton 1800 to 1850
Author: Jane Hurst
Publication date: 2008
ISBN: 978 0 9557038 2 9
Cost: £3.00 (+p&p if ordering by post)
Where to buy: Curtis Museum or by post - see How to Order page.
This book highlights some of the events that happened in Alton between 1800 and 1850 and shows something of the life of the town and its inhabitants at that period. Many of the items have been taken from the Hampshire Chronicle and, where possible, the original language has been used in order to give a feel of the times.
The start of the new century saw changes in Alton. Mr Saulez's Academy opened, the building of a canal was proposed and the Town Hall rebuilt. Alton was affected by the French War with prisoners of war in the town and inhabitants joining the local Yeomanry and Volunteers. When peace came there were celebrations but then came a recession with the bank of Jane Austen's brother, Henry Austen, ceasing to trade and the new windmill offered for sale.
The industry mentioned in the book include the tanneries, the breweries of Baverstock, Crowley, Hawkins, Hall and Fielder, Spicer's Paper Mill and the Alton Gas Company. The first half of the 19th century saw the creation of the Alton Hop Fair, the Mechanics' Institution, the New Odiham Road and Alton's Police Force. There were also changes - market day changed from a Saturday to a Tuesday, the British School moved to new premises by St Lawrence's Church and the Independent Chapel was rebuilt.
With the end of the era came meetings about the formation of a railway branch line to Alton, the building of a Methodist Church, emigration of inhabitants to New Zealand and the Westbrook House Asylum.
Needless to say, there were far more possible items than those that could be included in a book of this size and each topic is not dealt with as fully as it might be - but they could all be the start of further research.