Alton Papers
Alton Papers, no. 13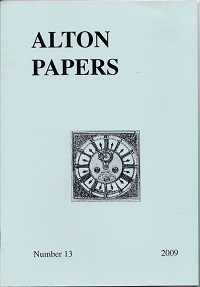 Publication Date: 2009
Cost: Out of print (available to view at Curtis Museum)
Articles:
Mary Woodforde's Booke - between the Lines
Author: John Heighes
Mary Woodforde (née Norton) was the wife of Rev Samuel Woodforde - the great-grandfather of Parson Woodforde and minister of Hartley Mauditt and Shalden here in Hampshire. This article looks at what Mary's diary reveals about the social and local history of the late 1600s. Mary notes a visit to Norton relatives at Rotherfield, various weddings and becoming to godmother to the daughter of Rev Gilbert White, the grandfather of the naturalist.
Main Roads around Alton. Part 2: The Death of the Turnpikes
Author: Martin Morris
Part 1 (in Alton Papers no.12) showed how the turnpikes around Alton came into being. Part 2 describes their decline and, finally, their closure in the late 1800s. Never profitable, the debts were mounting and the arrival of the railway in 1852 took away much of the traffic. The last turnpike to survive was the Gosport and Chawton Pond road which ceased in 1878.
A Perambulation of Medstead in 1744
Author: Margaret Prior
On 9 October 1744, the steward of the Manor and 12 of the inhabitants set out on a perambulation of Medstead. Those taking part included Members of the Budd, Wake, Andrews, Wilks, Allen and Hawkins families. The route is described in great detail mentioning the places that were passed together with many of the occupiers names. About a quarter of the way around, the party stopped at the 'Old Bound Mark for Four Parishes (that is) Medsted Rapley Chawton & Farringdon' - the origin of the name Four Marks.
The Clockmakers of Alton
Author: Mark Forrester
The first Alton clockmaker mentioned is John Fielder who worked in the early 1700s. He was followed by Stephen White, a Quaker, who was based in Market Street. John Snelling arrived in the town from East Worldham in the 1750s and produced clocks as did his son James Snelling. William Roe/Row worked in the late 1700s and early 1800s with his wife, Ann, carrying on the business when he died. Her son, William Trimmer Row took over later. The article lists other clockmakers of Alton and there are many illustrations.
Life in Alton in 1859
Author: Jane Hurst
150 years ago, William Terrell Gunner of Will Hall Farm was keeping a diary. He describes his daily routine which began with rising at 6.30 and taking a cold bath! Being a farmer, William was involved in the selling of sheep and hops although he did take time off to go to London and he kept up to date by reading the newspapers - commenting on the first voyage of the Great Eastern.