Alton Papers
Hartley Mauditt House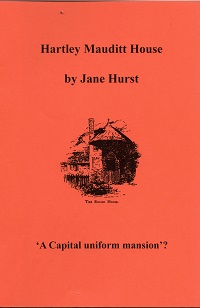 Hartley Mauditt House
Author: Jane Hurst
Publication date: 2015
ISBN: 978 0 9557038 6 7
Cost: £3.00 (+p&p if ordering by post)
Where to buy: Curtis Museum or by post - see How to Order page.
There are many myths and 'traditions' circulating about Hartley Mauditt House - so this is an attempt to put into print the true story of the building of the mansion and laying out of its grounds by the Steward/Stuart family in the 1700s - together with the date and story of the demise of the house.
Also included is the auction catalogue of the contents which were sold following the Decree in Chancery brought about by Sir Simeon Stuart's bankruptcy. Probably dated to April 1784, this shows every item for sale in every area including 'Her Ladyship's Dressing Room' with the tortoiseshell comb, pincushion and ivory memorandum book mounted with gold on the toilet table. It is easy to imagine walking through the home of the Baronet and his family - room by room - and then outside to the racing horse stables, green house with its pots of myrtles, orange and lemon trees and the hot house with 100 fruiting pineapple plants. The books alone took two whole days to be auctioned off - did any end up in the libraries of the local gentry?