Alton Papers
Alton Papers, no. 2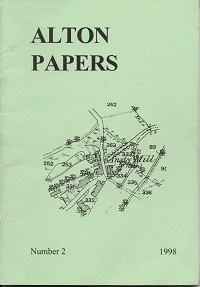 Publication Date: 1998
Cost: Out of print (available to view at Curtis Museum)
Articles:
The French Horn, The Butts, Alton
Author: Georgia Smith
Anstey lies in the parish of Alton but is a separate manor to the east of the town. The different forms of the name are traced and its probable meaning.

Anstey - the Place Name
Author: Martin Morris
John Edward Spicer came to Alton's papermill in 1796 but moved to London during the depression following the end of the Napoleonic wars. He left his son, also called John Edward Spicer, behind at Alton. The article follows the fortunes of the mill until 1909, when papermaking ceased, then its subsequent history as the home of the Alton Battery Company and its destruction after a fire in the 1980s.

Anstey Mill?
Author: Jane Hurst
This article follows the story of the mill which, despite its name, was never in Anstey. It was, in fact, the part of the manor of Binsted Popham that was in Alton parish. The first mention that has been found so far is from 1225 and it continued grinding corn until about 1900. The remains of the building can still be seen.

J.H. & E.Dyer - Builders of Alton & Hampshire
Author: Dave Dyer
John Dyer began his building enterprise in Alton in the late 1700s. Some of his earliest known work was on churches at Froyle and Newton Valence. When John retired, the business was taken over by his sons, George and William. They were responsible for alterations and rebuilding to many of the larger buildings in the area. Later members of the family to be involved were J Herbert and Edward while William's eldest son, Frederick, was an architect. They constructed All Saints' Church at the western end of Alton. Sadly the firm ceased trading in the early 20th century.

Lest We Forget - the story of Alton's War Memorial
Author: Tony Cross
This is the story of how the Alton war memorial was chosen from the various ideas that were put forward. Eventually, a 'heap of rough granite stones with a bronze tablet let in' was decided upon - now known as The Cairn.