Alton Papers
4 - Farmers and the Market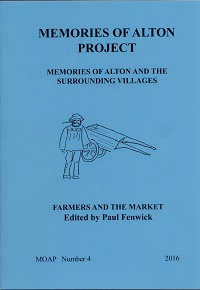 No.4 - Farmers and the Market
Published: 2016
Cost: £3.00 (+p&p if ordering by post)
Where to buy: Curtis Museum or by post - see How to Order page.
This book contains stories about a time when Alton's market had all kinds of livestock for sale - cattle, sheep and pigs as well as smaller animals. Many will remember the 'Deadstock Market' where you could buy all kinds of old items and then the Shed which had been the Egg Packing Station with its sales of flowers, rabbits, eggs, and other produce brought in by Altonians and villagers.
The volume also has memories of local farms and what it was like working on them. Win Bone took many animals to various Agricultural Shows and won Championships with Mr Stratford's bulls while other contributors helped with harvesting, potato picking and, of course, hop picking.