Alton Papers
Alton Papers, no. 10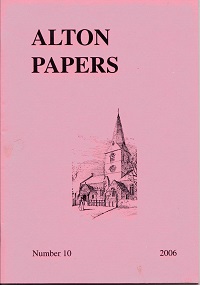 Publication Date: 2006
Cost: £3.00 (+p&p if ordering by post)
Where to buy: Curtis Museum or by post - see How to Order page.
Articles:
Life of an Agricultural Labourer in Chawton 1840-1924
Author: Paul Fenwick
James Stacey, the son of a labourer, was born in Chawton in 1840. By looking at sources such as the Hampshire Chronicle and Alton Herald, the author has put together a picture of many of the events in James' life including ploughing matches, Chawton Harvest Home, meetings of the Chawton Friendly Society and the Cottage Show - in which both James and his daughter, Charlotte, won awards.

Who was William Emo?
Author: Jane Hurst
In his book, 'The Story of Alton', Charlie Hawkins asked the question 'Who was Samuel Emo?'. Samuel's story is told here together with information on his probable parents and the most likely reason of his father's origins and appearance in the village of Bighton.

The Pechell Family's Connections with Alton - Part 2
Author: Edward Hepper
This article continues to describe this family's connections with Alton and the surrounding area and then gives their history from living in a chateau near Toulouse in the early 1600s, through their flight as Huguenot refugees to their settlement on this side of the Channel 300 years ago.

The New Style, The True Style - How Britain Eventually Moved with the Times
Author: Tony Cross
Here is a history of the calendar starting in Roman times and following it through to the changes that took place in 1752 when Britain adopted the Gregorian system.

Father Bond - Alton's Carpenter Priest
Author: Kate Dando
Charles Edward Bond met with an accident at the age of 14 that caused his lower left leg to be amputated and changed his life. He became a carpenter for Messrs Dyers, the builders, and also took part in the activities associated with All Saint's Church in Alton. Having decided to train to be a minister, he went to theological college and then returned to Alton. In 1921, he was inducted as vicar of All Saints' and remained there until his death in 1932.