Alton Papers
Alton Papers, no. 9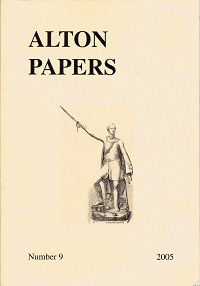 Publication Date: 2005
Cost: £3.00 (+p&p if ordering by post)
Where to buy: Curtis Museum or by post - see How to Order page.
Articles:
The Pechell Family Connections with Alton
Author: Edward Hepper
The Pechell family is followed from the first appearance of Captain Samuel George Pechell in East Meon in the 1820s. His son, Col George Samuel Pechell, moved to Alton House (now enlarged and the Alton House Hotel) in 1865 and took a great interest in local affairs. After the Colonel's death in 1897, his widow lived in Culverton House in Turk Street. The story follows the couple's children and their connections with Alton.

Frances Jane Dyer - aged 10
Author: Dave Dyer
Frances Jane Dyer was a member of the Dyer family of builders. As a young lady, she attended the Misses Rogers' School in Alton and whilst there she produced three manuscripts which were later found in the back of a cupboard in the cellars of Chapel Farm in Oakhanger. These manuscripts, one of which is illustrated, all show information about the Kings and Queens of England in beautiful copperplate writing with coloured decoration. They give an interesting insight into the education of a Victorian girl aged about 11 years old.

The Alton Volunteers, 1803-1812
Author: Keith Oliver
On the declaration of war on 18 May 1803, the British Government looked to Volunteer Corps to provide additional manpower at home. In common with many people, Altonians rushed to enlist and enrolment and training started . Uniforms were agreed upon and, by 1806, there were 121 men in the Corps. It is even possible that it was the Alton Volunteers that Jane Austen saw on Selborne Common in May of 1811.

Albert Fullick
Author: Jane Hurst and Edward Roberts
Albert Fullick was interviewed in 1975 when he was in his 90s and shortly before his death. He described his life as a young boy - going to school and leading horses at harvest time. When he left school, he became a ploughboy and then under-carter for Mr Baigent of Worldham. After a spell in the Army, Albert went back to work on the land in the summer, making hurdles in the winter. It was a very hard life and his story gives a good idea of what agricultural work consisted of.

The Alton Ambulance
Author: Norman Pointing
Whilst in hospital and desperately ill, Joseph Fenton decided that if recovered he would ensure that the local ambulance service would always be available. This article gives the history of the Alton Ambulance from the early 1920s.