Alton Papers
John Eggar's Grammar School 1642-1880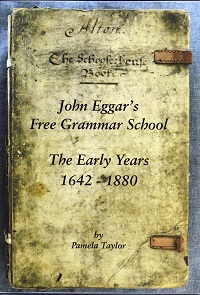 John Eggar's Free Grammar School - The Early Years 1642-1880
Author: Pamela Taylor
Publication date: 2017
Cost: £3.00 (+p&p if ordering by post)
Where to buy: Curtis Museum or by post - see How to Order page.
A new book on the history of Alton in Hampshire has just been published - 'John Eggar's Free Grammar School - The Early Years 1642-1880' by Pamela Taylor as part of the Alton U3A Local History Group. In 52 pages, with illustrations, it follows three centuries in the story of the school under the custodianship of the Feoffees, from John Eggar's initial plans to set up a Free Grammar School and his appointment of the first Feoffees, to the retirement of John Atkinson Plow in 1877, and the subsequent passing of the school to the care of the Charity Commission in 1880. The first part details not only the setting up of the school but the actual Eggar's curriculum and school day in the mid 17th century and how the free boys were selected. The second part chronicles the school's progress under all the Masters over the three centuries. Many local family names connected with the school through its history are featured – Feoffees, Masters, Ushers and Pupils.