Alton Papers
Alton Papers, no. 17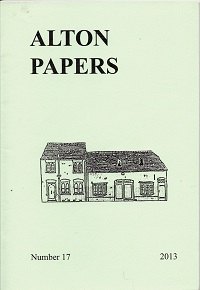 Publication Date: 2013
Cost: £3.00 (+p&p if ordering by post)
Where to buy: Curtis Museum or by post - see How to Order page.
Articles:
Fisher's Camp, Holybourne, 1948-1950
Author: Jane Hurst
This W.W.II prisoner-of-war camp was empty by February 1948 and locals started to ask if they could go there as accommodation in the area was very scarce. Eventually, the Nissan Huts were adapted and families moved in. Fisher's House was turned into flats which had a rent of 75p a week each while the huts were half that.
Life at Fisher's Camp, Holybourne
Author: Phyllis Andrews
Phyllis married her husband, Ray, in 1951 and they first moved in with his parents. After a while they were allocated one of the Nissan Huts at Fisher's Camp and she describes what life was like living in one of these - which were very hot in the summer and very cold in the winter.
Arthur Henry Knighton-Hammond 1875-1970: The Studio, Church Street, Alton, July 1932-December 1933
Author: Alan Tucker
Arthur was a very talented and prolific artist who came to live in Alton in 1932. An Honorary Curator of the Curtis Museum, William Hugh Curtis, let Arthur, his wife May and daughter Marie move into the building in Church Street. They had come to be near Dr Henry Gauvain of Lord Mayor Treloar Hospital as May had TB - from which she died in Spring 1933, having just given birth to a baby boy.
While in Alton Arthur painted many pictures - a couple of which hang in the Curtis Museum - and had an exhibition. His home has since been extended and is now the Allen Gallery which, together with the Museum, is managed by the Hampshire Cultural Trust.
Ruth Tiplin (née Pike)
Author: Christine Weeks
Ruth was born in Alton in 1924 and her life before and during the Second World War is described. During the latter, she helped with a canteen held in Alton Methodist Church where she met her future husband, John Tiplin, who was in the Royal Northumberland Fusiliers.
Christine tells of the family's part in the war effort with Ruth working at the Isolation Hospital and being out near the Telephone Exchange when bombs fell in Nursery Road. When John returned from being a prisoner-of-war in Poland, the couple married.
The Andrews/Chawton Connection
Author: Phil Andrews
The Andrews family have been connected with Chawton since 1874 as Phil found out when he researched his paternal grandfather, Walter William Andrews.
In 1881, Walter and his family were living in Chawton Alley/Terrace where his father was a carpenter - probably working on the estate there. By 1901, Walter was a footman at Chawton House for Montagu Knight. Other members of the family worked in the village - in a sweet shop, the Post Office and a bakery whose bread was baked in the outside oven at Jane Austen's Cottage. The article has pictures of Phil's great-grandparents (Henry and Mary Andrews) as well as Walter and cousin Ted Ford.