Alton Papers
Alton Papers, no. 15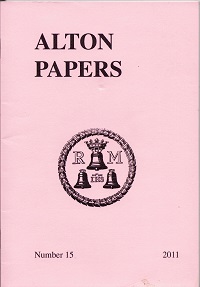 Publication Date: 2011
Cost: £3.00 (+p&p if ordering by post)
Where to buy: Curtis Museum or by post - see How to Order page.
Articles:
The Allen Gallery
Author: Georgia Smith
Georgia began by saying 'The Allen Gallery consists of a group of 16th and 18th century buildings which were bequeathed to the Museum by William Hugh Curtis'. The history of the premises is followed from when they belonged to the Allam family of cordwainers and curriers in the late 1600s through their acquisition by the Curtis family who lived at no.4 High Street (when they were used as a stable, coach house and home for their coachman) to becoming the Gallery we know today.
All Saints' Church, Alton: The Bells
Author: Martin Morris
When All Saints' Church was built in the 1870s, there was no tower. This was added and dedicated on 1 November 1881 with three bells then being installed. In 1999 it was proposed that six new bells in a new steel bell frame should replace the Victorian old bells and oak frame. These were consecrated on 9 December 2006.
A 1920s Childhood in Alton
Author: Sister Cecilia (Jackson)
Between 1922 and 1929, Sister Cecilia lived at Jordans Farm on the Old Odiham Road above Alton. She tells the story of her life there when her father worked for Tom Chalcraft of Amery Farm as a gamekeeper. Each season was distinct and had its own weather, fruits and flowers. Later Sister Cecilia went to school and got to know Alton better - an experience which she shares with us.
Fire at Anstey, 16 August 1905
Author: Jane Hurst
The local paper reported a disastrous fire at Wootey's Farm on the Old Odiham Road in August 1905. This short article is illustrated by four postcards - two by W P Varney, one by Holliday & Co. and the other by an unknown photographer. It was thought that the fire, which destroyed several hay ricks, had been started by little boy named Ayres.
Everything of the Best - the Early Days of Alton's Picture Palace
Author: Jane Hurst
2011 was the centenary of Alton's cinema in Normandy Street. Before this, films had been shown in the Assembly Rooms and Foresters' Hall but the new 'Alton Picture Theatre' was the first purpose built venue. The local paper gave a wonderful description of the building and tells of the peacock blue, white and gold decor. Sadly the name of the first film shown is not known but 1045 people went to see 'The Red Rose of the Apache'.
Amery Farm - Home of Jean Stevenson (née Lerwill) for 47 Years
Author: Jean Stevenson
Jean's family moved into Amery Farm House in 1931 and she describes the building that they found. It was soon after this that Alton Senior School (now Amery School) was built next door. Later Jean married vet Bruce Stevenson and the House became surgery as well as home.
Emigration, Alton to New Zealand - a Footnote
This contains the obituaries of two of those who went to new Zealand in 1841 - George Holland and George Cook.