Alton Papers
Alton Papers, no. 6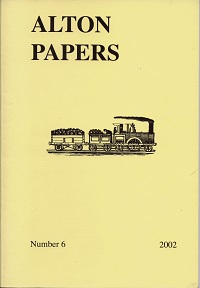 Publication Date: 2002
Cost: Out of print (available to view at Curtis Museum)
Articles:
The Oppression of Alton by Walter de Burgo, 1236-40
Author: Mark Page
This is the story of a number of tenants of the King who held land in and around Alton and who were unjustly dispossessed of their property by a royal official called Walter de Burgo. Walter had been appointed by Henry III to try and maximise the profits of royal manors such as Alton Westbrook - an experiment which seem to have caused much ill feeling in the area.

Servant-keeping as a marker of Social Class in Alton, Hampshire
Author: Dave Dyer
The census of 1861 and 1891 are used here to look at the social class of those who kept live-in servants and see if there were any changes during that time. It appears that retailers kept the highest number of servants with the majority of them being single females.

150 Years Ago - the Day the Railway Came to Alton
Author: Jane Hurst
The railway came to Alton in the summer of 1852. This article gives the all the preparation beforehand together with reports of the events of the day itself including the arrival of the first train, the feast for the 400 ladies and gentlemen and the feed for the 2500 poor parishioners of Alton and Holybourne.

55, High Street, Alton: Bartlett & Butcher, (later Stoodleys)
Author: Georgia Smith
Probably built about 1581, the history of this house and shop is described through its ownership by the Eastman family of fellmongers, John Grover collarmaker, the Smith family of saddlers and Edward Hale tailor and hosier.

Wrights' Yard, The Butts, Alton
Author: Tim Smith
Wrights' Yard was occupied by several businesses between 1876, when the Grantham Steam Cultivation Contractors arrived, until 1990, when the site was redeveloped for housing. The person after whom the yard was named was Edward Walton Wright from Lincolnshire. His company became one of the largest steam engine contractors in north-east Hampshire and had a fleet of steam rollers. They also operated threshing machines and constructed roadmen's living vans.