Alton Papers
Alton Papers, no. 16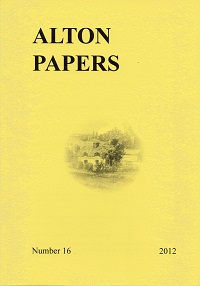 Publication Date: 2012
Cost: £3.00 (+p&p if ordering by post)
Where to buy: Curtis Museum or by post - see How to Order page.
Articles:
Norfolk House, 93/95 High Street, Alton
Author: Jane Hurst and Len Barham
This article follows the history of the property from when Thomas Holland held the plot of land in 1677, through its being built by Henry Hammond by 1704, used as a school in the early 1800s by George Saulez and being the home of surgeon Theophilus Turner at the end of the century. An inventory of the goods belonging to Henry Hammond (taken in 1719) gives a good idea of how the original house was furnished in the 'dwelling room', parlour and chambers.
Len Barham sketched the houses at the junction of Mount Pleasant and Kent Lane and recorded his memories of who lived there in his youth. These included Henry Messingham, a cobbler, the Barnes family and Mrs Goodwyn.
The Gibsons and Holybourne
Author: Peter Calvert
Major [Charles] Frederick Gibson (1808-1868) was Peter's ancestor and he left a portfolio of drawings and sketches of the places he stayed in - including Holybourne. Charles' father, John George Gibson, came to the village in 1809 to become the headmaster of Andrew's School and, later, curate. After his death in 1833, his widow moved across the road into Holybourne Cottage.
Frederick joined the Army and spent some time in Canada where he did some beautiful pictures and had a life-changing experience. The Gibsons returned to Holybourne in 1863 and Frederick began to construct a gospel hall on the corner of London Road and Upper Neatham Mill Lane. The article describes Frederick's life in the village and is illustrated by some of his sketches and water colours as well as portraits of the couple.
Wyck, and William Wickham
Author: Major R G Reed
Wyck Place in Binsted was bought by the Rt. Hon William Wickham in 1811. William had been in the Diplomatic Service and was looking for somewhere to retire. Sadly he and his wife did not live here long and nor did his son Henry. Grandson William Wickham took more interest and improved the estate. He also became involved in local affairs - winning a seat in the General Election of 1892. William died in 1897 and, four years later, his widow had Binsted's Wickham Institute built.
Early Days at the Cottage Hospital
Author: Sue Thorne
Sue arrived at Alton's Inwood Cottage Hospital when she was 14 and was put to work peeling potatoes! She tells the story of her time working for Matron (she was too young to become a nurse) and of some of the scrapes she got into while there. When she was 17, it was decided to close the hospital and Sue went to work at Alton General Hospital and, later, was in Farnham before returning to Alton. Her nursing career ended when she married Ron and became a funeral director. When they celebrated their 80th birthdays, they gave two flag poles to the town which stand near the old Cottage Hospital where they first met.
Odds and Ends - Cricket, and the Alton Recreation Ground
The two postcards show the cricket teams of Crowley and Co. and the Winchester Brewery taken on 6th August 1904. The venue was the Recreation Ground which was run by the Alton Recreation and Sports Ground Company and was on the site of the later Courage/Bass Sports Ground. Originally, the land was leased from the Knight family of Chawton, but it was conveyed to Courage and Co. in 1932 for £1550 when it was said that cricket had been played here 'for 40 years'.