Alton Papers
Alton Papers, no. 20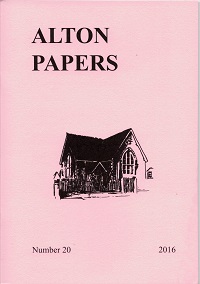 Publication Date: 2016
Cost: £3.00 (+p&p if ordering by post)
Where to buy: Curtis Museum or by post - see How to Order page.
Articles:
Sweet Fanny Adams Revisited: What's in a Name?
Author: Tony Rice
Many will know the phrase 'Sweet F A' but may not be aware that it relates to a terrible crime that took place in 1867. This article tells how the murder of an Alton girl, Fanny Adams, coincided with a new Royal Navy issue of canned meat and follows the term over the intervening years.
Jane Austen's Apothecary - William Curtis
Author: Jane Hurst
Another anniversary celebrated in 2017 was the 200th of Jane Austen's death. While living in Chawton, she became ill and consulted William Curtis - whose life and career is described here. Born into a local Quaker family, William followed his father and grandfather by becoming a surgeon apothecary and tended patients in Alton and the surrounding villages.
The Centenary of the Battle of Jutland
Author: Christine Weeks
Christine has written about the local men who were lost (William Weeks, Wyndham James Allwork, H Arnold, Arthur Christmas, George Thomas Keeling, Francis George Knight, Ernest Leonard Norris and Charles White) and how she commemorated them.
Normandy Street School, Alton
Author: Caroline Taylor
2016 saw the anniversary of the British Boy's School in Normandy Street. It was funded by Frederick Crowley of the local brewing family and catered for the non-conformist families in the town. Caroline has traced the history of the establishment through many changes and also given information from the log books as well as memories of pupils and teachers.