Alton Papers
Alton's Motor Traders part 2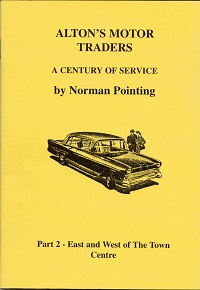 Alton's Motor Traders - a Century of Service
Part 2 - East and West of The Town Centre
Author: Norman Pointing
Publication date: 2009
Cost: £3.00 (+p&p if ordering by post)
Where to buy: Curtis Museum or by post - see How to Order page.
This is the second part of the history of the motor trade in Alton. The story starts in the area around the Station with the building of a garage in about 1908 which became the premises of Foster and Harvey and then Snell's Motor and Motor Cycle Engineers and the large Kerridge site across Station Road. In Ackender Road, the Phillips brothers opened their motor engineering firm and, nearer Butts Road, were J Urquhart & Son's, Clover Leaf Cars Ltd, Oakley's Motor Services, Cowies, Haven Ford and Caffyns Ford.
In Butts Road, the old Gas Works site was taken over by Motorway Tyres with the Alton Motor Co Ltd trading from the ex-Wright's yard at the Butts. Kerridges, Pritchards and Keith Gott all used Greenwood Farm and several businesses have been located down Mill Lane. The village of Holybourne boasted three garages at one time. The first was John Simpson's which was bought by C O G Smith and was named Holybourne Garage.
See also Part 1 of 'Alton's Motor Traders' covering the businesses in Alton's town centre, Anstey, and Butts Road.