Alton Papers
Alton Papers, no. 19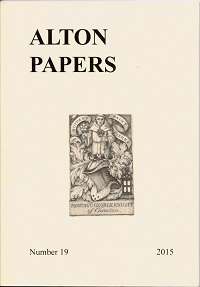 Publication Date: 2015
Cost: £3.00 (+p&p if ordering by post)
Where to buy: Curtis Museum or by post - see How to Order page.
Articles:
A Noisy Gang of Rascals - the Belgian Refugees of WWII
Authors: Jan Van Roey, Master Verschueren and Staf Verhoeven.
This article tells of the group of Belgian children who came to Morland Hall in Alton after the German invasion of Belgium. Jan Van Roey was in a Sanatorium from where the young patients and nuns who nursed them were sent to England. Aged only 7 years old, Jan found it difficult as he spoke no English but he gradually settled in and even became a Scout.
The story is also told by Master Verschueren who ended up in Alton trying to teach the children. He kept a Journal and recorded that the children grew 'wilder and more mischievous' at Morland Hall - stealing fruit from the garden and harassing the nurses. Eventually they were sent to Overbury Court (now in Shalden) where they stayed until returning home in July 1945.
The Origins of the Knight Coat of Arms and Two Grants of Their Arms
Author: Edward Hepper
Edward describes the coats of arms of the Knight family of Chawton and the changes which occurred over the years. The descent is given together with a family tree and the heraldic terms are described. There is a picture of the 1738 grant together with details of the bill from Charles Greene, Lancaster Herald, which came to nearly £50.
Chawton House in the mid-1600s, and Azariah Husbands
Author: Jane Hurst
Richard Knight of Chawton married Elizabeth Fielder in 1638 and they had one child - a son also called Richard. Sadly, Richard senior died in 1641-2 leaving his heir a very young child at the time of the Civil War. Elizabeth was married again in about 1649 to Azariah Husbands, a member of the Parliamentary forces.
The new couple had a son, Edward, and he inherited his father's Essex properties while Elizabeth still had an interests in Chawton - probably from her marriage settlement. Her eldest son, now Sir Richard Knight, died in 1679 making no mention of his mother in his will although she did not die for a few more years, writing her will in 1683 in Brentford, Essex. She had been connected with Chawton for about 45 years although only married to Richard Knight for a short time.
No.4 High Street, Alton - 'The Old House'
From a Memoir of Maria Heath Curtis
Maria Heath Curtis was the daughter of William and Jane Curtis and grand-daughter of Jane Austen's 'Alton apothecary'. In about 1923, Maria wrote her Memoirs and described the family home - No.4 High Street in Alton. Across the road was open space as the Alton to Winchester railway had not been opened nor the Assembly Rooms, Cottage Hospital and Mechanics' Institute built when she was young.
The Memoir gives a very good idea of how the garden looked with its summer house, 'high rose poles' and gravel path. Although these items have gone, the public can enjoy the area as much of the garden is now part of the premises of the Allen gallery in Church Street.
Odds and Ends: the Funeral of Lieutenant-Colonel Peter Mulvaney
The Lieutenant-Colonel was the Officer Commanding of the Princess Louise Hospital in Chawton Park Road in 1905. He died in November and, after a service at the Hospital, his coffin was taken to Alton Station on a gun carriage with a large escort of soldiers. The article has pictures of the Hospital and the Funeral Procession.