Alton Papers
Alton Papers, no. 7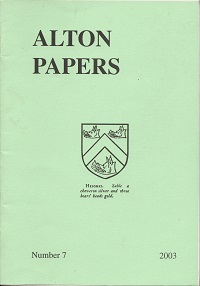 Publication Date: 2003
Cost: Our of print (available to view at Curtis Museum)
Articles:
Medieval Alton: the Origins of a Market Town
Author: Mark Page
Although Alton's market does not have a surviving charter, the market listed under the Domesday Book entry for Neatham Hundred was valued at £8. This was compared to £1 10s for Basingstoke and £2 for Titchfield. This article gives some of the medieval references to the market showing that there existed a pillory and tumbrel as well as stocks and that there was a trade in wine and cider.

The East Hampshire Ancestry of Parson Woodeforde
Author: John Heighes
Parson James Woodeforde was born in 1740 and wrote a diary from the age of 18. This was later published and gives a wonderful insight into the life of a Norfolk Rector. What is less well known is that James had East Hampshire ancestors. He was related to the Heighes family of Hay Place in Binsted and his great-grandfather, Samuel, was minister of Shalden and Hartley Mauditt and lived in the latter.

Chawton: Employment during the Census Years, 1841-1881
Author: Violet Hunt
The majority of the population of Chawton was employed in agriculture in the Victorian era but, as the years passed, more walked into Alton to work in the breweries and other businesses in the town. New occupations appeared such as stoking at the Gas Works, working in the Paper Mill and on the railway. An insight is given into the changing prospects for those living in a village.

Arthur Edward Hale
Author: John L Dayer
The article in Alton Papers No.6 on 55 High Street led to more information on Arthur Edward Hale coming forward. He came to Alton when he was 18 and bought 55 High Street in 1893. Along with the description of the man and his business are pictures of Arthur on his wedding day and his shop before and after alterations in the early 1900s.

Wartime Bombing in Alton - 1939-1945
Author: Norman Pointing
The story of the bombs that landed on Alton has been traced using newspaper articles, Urban District Council minutes and personal memories of many old Altonians - some amusing and some serious.
* £1 P&P for the UK only. For postage cost for other countries please contact sales@altonpapers.org.uk