Alton Papers
Alton's Motor Traders part 1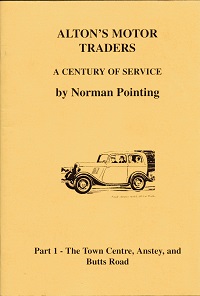 Alton's Motor Traders - a Century of Service
Part 1 - The Town Centre, Anstey, and Butts Road
Author: Norman Pointing
Publication date: 2007
Cost: £3.00 (+p&p if ordering by post)
Where to buy: Curtis Museum or by post - see How to Order page.
This is the first part of the history of the motor trade in Alton, Hampshire, which starts in the early 1900s. Two of the original traders, the Debenhams and the Kerridges, began with cycle businesses. Others, such as Alfred Albert Thrower, came from carriage building into motor repairs. Ernest Enticknap was a motor and cycle engineer in 1906 and offered cars for hire with a driver.
Like many businesses several of the garages changed hands while some moved premises and new ones appeared in the town. By the 1930s names such as Webber's, Alton Autos, Andrews Bros, Fenton's and Deane were well known with Reale's, Carman, Pritchard's, Tew's, Peat & Stout and Williams' coming after WWII. Even the Swan Hotel had petrol, motor sheds and a pit with Dunlop tyres in stock.
From this story emerge some fascinating facts. In their early days, Kerridge's offered to supply Wright and Bleriot aeroplanes while Webber's undertook the repair of Spitfire and Halifax bomber fuselages during the Second World War. Williams of Alton had Innes Ireland, the former Grand Prix driver, acting as salesman for Aston Martins.
See also Part 2 of 'Alton's Motor Traders' covering the businesses in the other parts of the town and Holybourne.