Parish Meeting 14 January 2021 - On-Line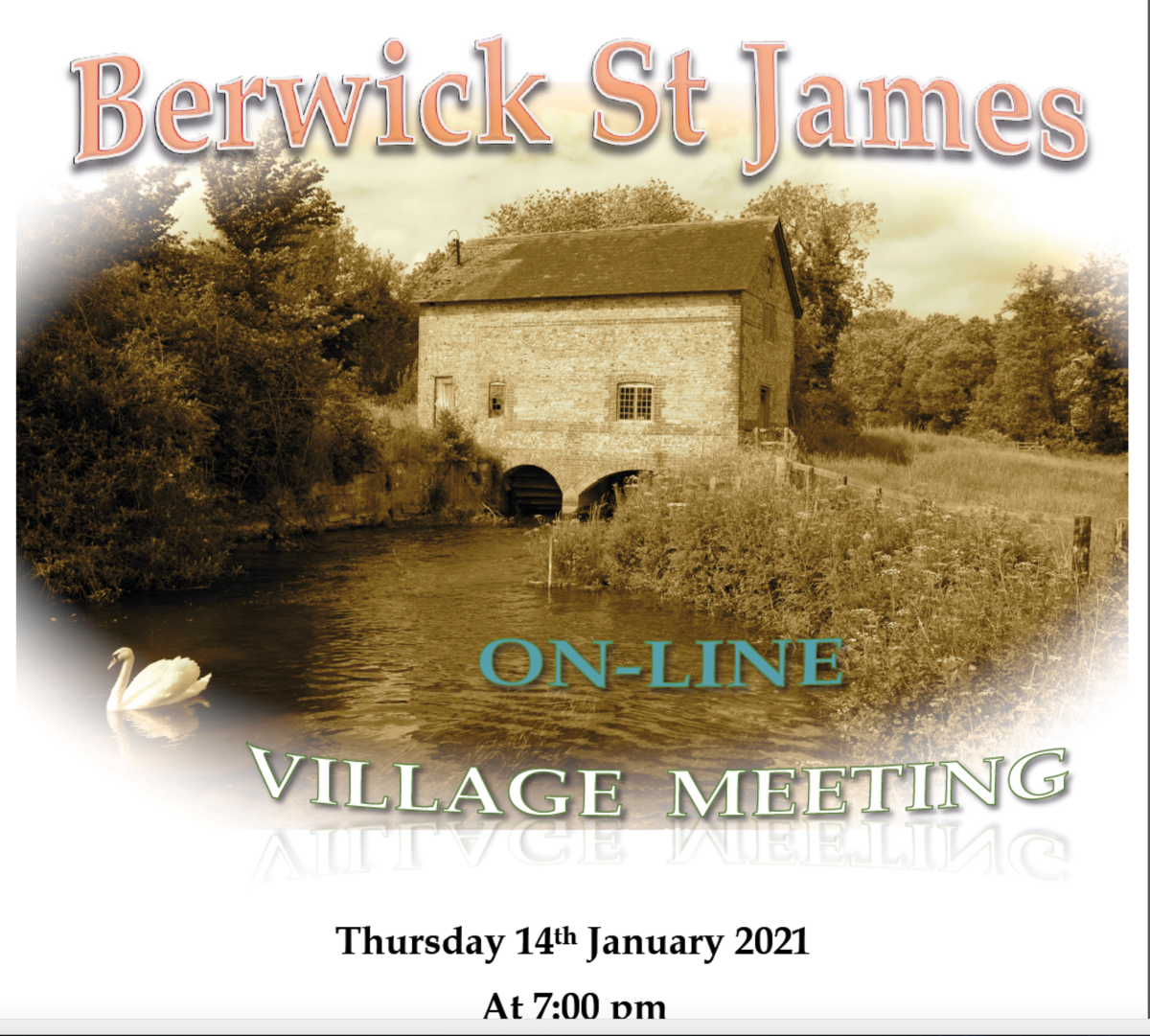 Minutes of Berwick St James
Village Meeting
Thursday 14th January 2021
Online
_____________________________
In attendance: Christian Lange (Chairman)
Sarah Humphreys (deputy chair)
Bill Hiscocks (Treasurer)
Kate Wood (secretary)
Total in attendance: 26 online devices (about 34 people present) plus some on landlines.
Summary of issues discussed and decisions made
Welcome & Introduction – Chairman
The chairman opened the meeting at 7pm, extended a welcome to all and informed everyone that the meeting was being recorded for the benefit of anyone unable to attend and that a copy of the minutes would, as usual, be posted on the village website.
Christian also informed the meeting that Kate Wood would be standing down as secretary due to an increase in her professional workload and Hayley Burrey had kindly offered to take over the role. Christian expressed sincere gratitude to Kate for all her work as Secretary over the past few years. She was given a virtual round of applause.
Minutes of Last Meeting and Matters Arising
The minutes of the last meeting, held on 28th September 2020 were deemed to be a true and accurate reflection, proposed by Bill Hiscocks and seconded by Shaun Haggarty – electronic vote 100%.
Christian thanked all those who organised the recent village activities – Hayley and Nicky for the very successful and popular treasure hunt which was won by the Humphreys family. Bill and Greville were thanked for organising an excellent wine tasting evening. Gabbi was thanked for organising the bake off which was won by Helen and Aislinn Riding and Helen was thanked also organised a wreath making competition which was won by Claire Whatley.
Stephen, Bill and Martin were all thanked for organising a wonderful and well attended outdoor carol service on 22nd December with readings from various children in the village and excellent singing from the choir. Thanks were also extended to Chris for the lighting of the church and providing the sound system. Charlie, Stephen and Bill were also thanked for supplying and erecting the large Christmas tree in the church yard.
Brian Armstrong was also thanks for his fascinating and informative art lectures.
The repairs to the village bus stop are now complete.
Bill informed the meeting that the Salvation Army clothes bin had raised a total during 20/21 0f £39.43p.
Summary of accounts and village precept.
Bill informed the meeting that the village accounts stood as follows:-
Community fund - £1,502. 57p
A303 fund - £614.80p
Precept -£1769.79.
Bill suggested to the meeting that amount of the precept for 2021/22 be kept at £2000 – proposed by Neil MacDougall and seconded by Charlie Street and the electronic vote = 100%.
Covid-19 support plan
A group from the village including Chris, Sarah, Bill, Sally, Andrew, Hayley and Charlie have formed to create and run a covid-19 support plan. They meet regularly to oversee the running of the buddy groups, medication/prescription collections and shopping deliveries (as previously organised for the earlier lockdown) and to again organise more fun activities.
Sally had previously reported that the buddy groups continue to work well but encouraged everyone to take more care and maintain vigilant precautions and if in need of anything "don't be alone pick up the phone" as the numbers of Covid cases continue to rise. The farm shop will remain open as usual and Marilyn would be grateful for any volunteers who were prepared to help with deliveries of food, Mike Riding volunteered. Chris said if anyone was in need of transport whether urgent/non-urgent they should let him know and Neil offered to assist with any transport requirements. Keith mentioned that he had visited Tesco at 8.30pm and found it very quiet and suggested this might be one of the safer times to visit. The Boot Inn will remain closed until restrictions are lifted.
The village social media sites are still functioning, the WhatsApp group should be used for more important/urgent information and the Facebook site for the more light-hearted exchanges. Hayley said the book club was still working well with about 8 members at present
Note: More detailed information is available by clicking this link
A303 update – Carolyn MacDougall.
Carolyn provided the meeting with an update on the A303 proposed works. A full update can be found on the village website on the following link by clicking here
AMESBURY TO BERWICK DOWN A303 ROAD SCHEME UPDATE – Carolyn MacDougall
Key Points:
Development Consent Order (DCO) given by the Secretary of State for Transport, Grant Shapps, on 12 November 2020. Overruling the Planning Inspectorate's advice to withhold consent because of damage it would have on the World Heritage Site.
One legal action against the DCO has been received from 'Save Stonehenge Heritage Site' (Stonehenge Alliance). The judge will decide whether or not the challenge will proceed to the High Court.
Work Timelines by various constructors will be available late spring. To-date one major UK construction company (Geofrey Osborne) has been appointed to begin work as early as spring or summer this year to do site clearing, the laying of new access track, modifications to some junctions, the building of the satellite compounds and laying a new water mains pipeline. The tunnel phase will not start until late 2022 or early 2023. The main contractor will be from Europe and will be appointed later this year. It is estimated that there will be approximately 350 personnel involved at any one time.
There will be opportunities for the local community to engage with contractors to provide amenities such as plant hire, transportation, accommodation, food, etc. A supply chain platform is being set up to co-ordinate between suppliers and constructors (Refer to village website for details).
Wessex Archaeology is the leading Archaeology and Heritage Company in the UK and has been working with Highways England on the project from the start. They have been actively involved with the World Heritage Site for 20 years. To-date nothing has been unearthed that was unexpected. Their fieldwork continues.
As most of the spoil from the tunnel is being deposited at Parsonage Down (off the B3083 north of Winterbourne Stoke), completion of the Northern Bypass will take 2-3 years from start of construction. The B3083 will remain open at all times except when the road is switched to the new alignment.
Highways England is planning virtual public information events in March and April.
Our local commitment will continue throughout the scheme so we can engage in important issues that may affect our countryside and our community.
Sheriff's Report – James Hardy
James expressed a warning about online frauds regarding deliveries (royal mail/dpd etc) that were unable to be left at the door. The scammers encouraged contact in order to get payment for the proposed delivery and /or bank details. He emphasised the point that scammers are making the most of situations such as lockdown and there are numerous new scams being developed all the time, all suspicious contacts should be regarded with the utmost caution and genuine agencies will never ask for bank details or pin numbers.
Bill supplied a government email address to which one can forward fraudulent to it is: report@phishing.gov.uk
The new gates at the top and bottom of the private road running through Druids estate were mentioned. It was suggested that they had been closed to discourage hare coursing. Peter Day said they were also to discourage that road being used as a "rat run" which had become a problem over recent time.
Village Defibrillator – Carolyn Devitt
Carolyn said that the South West Ambulance Service (SWAS) had said that the defib was due a service and that the warranty was due to expire in Feb 2021. The village now had 2 possible options for the upkeep of the defib –
SWAS transfer ownership to the village and we pay for any ongoing repairs, service or replacements as required i.e new pads every 2 years at a cost of £90 (needed Feb 2021), possible replacement battery £120+vat every 4 years.
A 4 year loan scheme from SWAS at a cost of £1800 + vat, which includes the replacement of any consumables and any training as required.
The general feeling of the meeting was that the best and most cost effective option was to bring the defib under the ownership of the village and that a spend of £100 from village funds be authorised to purchase replacement pads - proposed by Charlie Street and seconded by Keith Lovett – general vote + 100%.
Ideas for the village during lockdown:
A number of ideas to keep the village and entertained during lock down and the following was agreed:
Wine Tasting – This was popular again – Bottles cannot be split this time around due to Covid risks. Greville & Bill to progress.
Online Scrabble League – This seemed to be popular and will be progressed by Haley and Andrew.
Book Club – This is a relaxed club – new members welcome – Hayley progressing
Village Art Contest – Aimed at the young people in the village – winning pictures to be displayed on Facebook and Reading Room window etc. Hayley to progress
Vegetable Growing League - Idea put forward by Toby Humphreys and was very popular at the village meeting. The contest will be open to other villages in the benefice –£300.00 funding to be sought from Amesbury Area Board.
Any other business
Sarah mentioned that a 'surviving winter' fund was available to provide a £250 grant for anyone in receipt of universal credit/income support or pension credits which can be put towards energy bills, Sarah will circulate an email with all details and post a note through letterboxes for those not online.
Bill mentioned that Paula Rapley and her daughter had been collecting litter from the hedgerows along Berwick Road and he felt a thank you may be in order and possibly the village should invest in some 'litter collector sticks/tools' so that those in the village prepared to help could do so – general vote 100%.
The date of the next meeting is still TBA.
There being no other business the meeting closed at approximately 8.30pm.
Christian Lange & Sarah Humphreys
Co -Chairs of the Village Meeting.