Security & Privacy
Cybercrime or computer fraud is the fastest growning crime in Wiltshire. Following a presentation to the village on 23 April 2018 on cybercrime by Tim Wilton from the Bobby Van Trust, Tim has forwarded contact details and links to certain secure websites which give advice and additional information on the prevention of computer fraud. The following are two links to Get Safe Online, which is a public/private sector partnership supported by HM Government and leading organisations in banking, retail, internet security and other sectors, which provides particularly good and useful information on keeping you and your computer safe.
https://www.getsafeonline.org/protecting-yourself/
https://www.getsafeonline.org/protecting-yourself/passwords/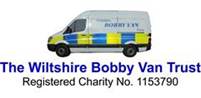 This information and advice has been provided by the Wiltshire Bobby Van Trust (WBVT). The Trust works in partnership with the Wiltshire Police to provide a home security service for elderly, vulnerable and disadvantaged people throughout Wiltshire. The charity funds the operation of two Bobby vans that provide mobile workshops for Bobby operators. Their team of Stay Safe Online Volunteers also offer advice on keeping safe online. For our latest news check the Blog section of our website, or follow us on Facebook and Twitter.
The Wiltshire Bobby Van Trust
Devizes Police Station
New Park Street
Devizes
Wiltshire SN10 1DZ
Email: Bv.onlinesafety@wiltshire.pnn.police.uk
Tel: 01380 861191