Great Bustard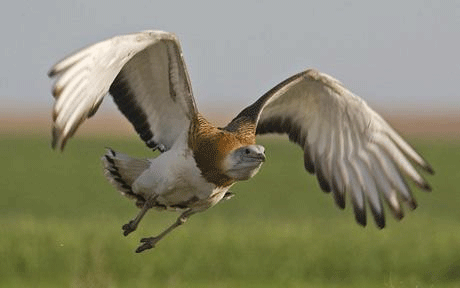 Recently there have been many sightings of Great Bustards around the parish, although many of these have turned out to be turkeys, some really are Great Bustards. One was seen regularly on the River Wylye in company with some swans, and another up near the A303.
These are, of course, from the recent re-introduction by the Great Bustard Group.
In August 2004 28 Great Bustard chicks were brought from their birthplace near Saratov in Russia, and later on released on Salisbury Plain, chicks were imported for several years to allow a sustainable wild population to develop. As the birds have grown to maturity, chicks have been born in the wild in Britain for the first time in, probably, around 180 years.
There had been a previous attempted re-introduction in the 1970's and 80's on Porton Down, which was unsuccessful.
Why is this of interest in Berwick?
Because one of the last wild Bustards seen in England, before this reintroduction, was seen (and shot) on Berwick Hill Farm in 1871, and is now in Salisbury Museum.
THE GREAT BUSTARD
The Great Bustard Otis Tarda are large, long-legged, ground-living birds native to Southern Europe and Asia, shaped rather like a goose but with longer legs and a straight neck. The adult male is brown above and white below, with a long grey neck and head, the breast and lower neck sides are chestnut. The hen is about 2/3rd the size of the male, with buff coloured neck and breast. The Great Bustard is possibly the heaviest living flying animal, but it walks rather than flies, but flies well. The heaviest verified bird was 46lbs
They like open grassland or undisturbed cultivated fields, and are naturally shy of humans. They are gregarious and they eat seeds, insects, beetles etc. Unfortunately up to 80% of chicks die in the first year, being taken by raptors, crows, foxes and badgers, but by the time they are full grown they have no known predators (except humans).
GREAT BUSTARDS IN HISTORY.
Although the birds are shy and difficult to catch, they were popular for eating and were highly esteemed for banquets. 10s was paid for each bustard and swan at a banquet in 1555 – snipe only cost 2d each. They were never common and even had protection in the reign of Henry VIII.
By the last quarter of the eighteenth century the bustard was decreasing in numbers rapidly, and in 1775 was protected by law, while twenty years later they were so scarce as to be recorded when seen – as in this report
"A very observant and credible person of Chitterne Mr Dew who I knew as a sportsman in my early days informed me in the year 1796 that he once saw as many as 7 or 8 of these birds together on the Downs near Winterbourne Stoke"
Native Great Bustards had become extinct in the British Isles by 1840. Their disappearance was due to their dislike of human activity, the breaking up of the sheep downs and the increase of traffic and population, as well as hunting.
However some small flocks were seen on the Salisbury Plain during the 19th century, these had probably flown across the channel from France.
GREAT BUSTARDS IN BERWICK
In 1871 a flock of seven Great Bustards were seen on the Maddington Downs above Shrewton.
On January 23rd Stephen Smith, a bird scarer, saw four birds flying low near Tile Barn, Maddington, and shot a hen bird from 132 yards away with a marble with which his gun was loaded. The bird was sent by Mr Lywood, the owner of Manor Farm to the Director of Salisbury Museum, Mr E T Stevens.
This bird is part of the Salisbury Museum display of four Great Bustards.
Two days later two of the remaining six were seen on what is now Berwick Hill Farm, probably on the field called Langford Hill. This is on the right of the Langford Way, well passed the trees, high up on the downs.
Mr Pinckney, the local squire, organized a hunting party which formed a large circle around the birds, gradually closed in on them and Mr Pinckney's keeper wounded one of them, so that they were then able to catch it. The other bird escaped, and it is likely that it joined up with the other four, and returned abroad. At any rate nothing more is known of these survivors.
The captured bird was a cock bird, weighing 16 or 17 lbs and measured 6ft 8ins between the tips of the wings. This bird was skinned before being served up at Mr Pinckney's table to a group of friends, each of whom received a gold sovereign to purchase a souvenir of the event. The last survivor of this party was Mr Francis Brown of Deptford, who wore the sovereign as a pendant on his watch chain.
This probably took place at the present Berwick House, then called The Manor House. Mr Erlysman Pinckney was aged 62 in 1871, and lived there with his wife Jane.
The bird was stuffed and on Mr Pinckney's death it was presented to Salisbury Museum, where it is on the right hand side of the display.
Salisbury Museum has a display of four Great Bustards. They are the Maddington Hen, the Berwick St James cock, a further bird that was shot at Henswood near Marlborough in 1856, and a bird bought from Dinton House in 1917, but it is not known how old that one is, nor where it was shot.
Written and researched by Nicky Street.