UPDATES
Saturday 7th May 2022
A303 Update News - Carolyn MacDougall
This month the A303 Stonehenge project will be out and about in Wiltshire. The team's "chatty van" will be on tour for the first time visiting local communities.
Members of the project team will be on hand to answer your questions and set the record straight about some common misconceptions.
Come on down, and get to know the team (details of where and when below).
Saturday 21 May
Shrewton
Village hall and recreational ground, car park, SP3 4JX
09:30-11:30am
Winterbourne Stoke
Bell Inn pub, car park, SP3 4SZ
12:30pm-3pm
Sunday 22 May
Salisbury
Central car park, Mill Stream Approach, SP1 3SL
10am-3pm
Monday 23 May
Amesbury
Bowman centre, Shears Drive, car park, SP4 7XT
10am-3pm
Tuesday 24 May
Salisbury
Guildhall square, SP1 1JH
10-3pm
Wednesday 25 May
Durrington, Sainsbury's local, car park SP4 8BD
09:30am-12pm
Amesbury
Church Street car park, SP4 7EU
1:30pm-3:30pm
If you can't come along and see us in-person, then you can join the team's online question and answer session. Our Project Manager David Bullock will be hosting a live chat on 16 June at 7pm.
-------------------------------------------------------------------------------------------------------------------------
Tuesday 1 February 2022
COMMUNITY FORUM HELD ONLINE ON 25 JANUARY 2022 - Carolyn MacDougall
1. Update on Statement of Matters – David Bullock, Highways England Project Manager
On 30th November Highways England received a letter concerning the Statement of Matters where the Secretary of State set out a number of points that required further information following the Judicial Review that quashed the road scheme. Highways England duly published this on 24 January 2022.
Full information is available on the Planning Inspectorate's website: https://infrastructure.planninginspectorate.gov.uk/projects/south-west/a303-stonehenge/?ipcsection=docs
The Five Key Points:
a. Alternative routes – To provide merits of the road scheme against alternatives and why these had been discounted. To collate comprehensive information that provides a thread from earlier options to what was said at the Development Consent Order examination.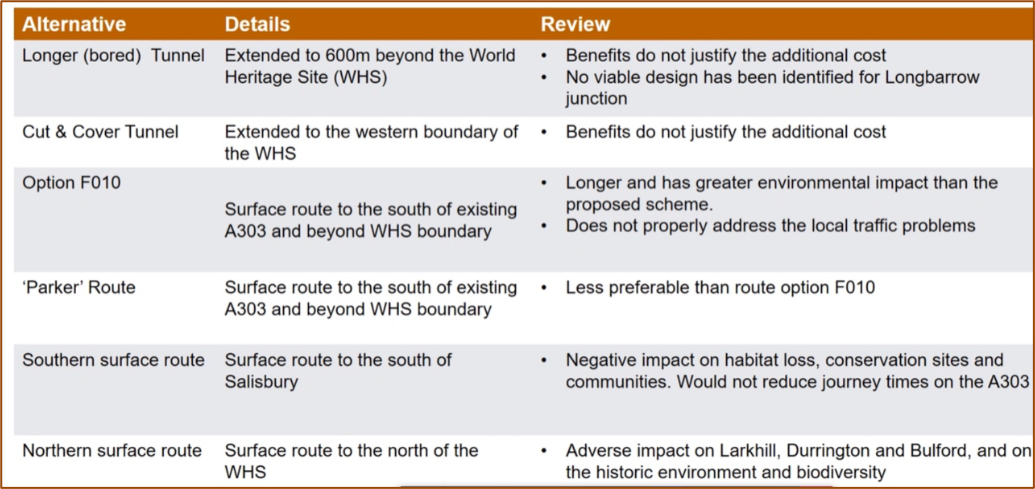 [ NB: 'Cut & Cover' Tunnel: This refers to the section within the WHS that is in the deep cutting where a cover could be placed to disguise it but the bored tunnel would still be there.]
b. Local & National Policies – Confirmation that the road scheme still met with all national and local policies.
c. Carbon Budgets & Climate – As new legislation had been brought in since the Redetermination, Highways England has had to ensure that the scheme still complied with Government guidelines about carbon emisions and to bring the scheme in-line with all new policies and legal changes. Increase in volume of traffic, use of electric vehicles and additional local usage were all included in the updated traffic model but would continue to be monitored.
d. Environmental Info Review – Determine if changes have affected the conclusions that were made when the scheme was determined in 2019. Continue to undertake surveys in terms of habitat and species and comply with changes in methodology, policy and legislation. Conclusion has been that none of this alters the position.
e. Other Matters – Ensure the Secretary of State is aware of UNESCO potentially placing Stonehenge under 'at risk' status in WHS register.
What's next?
Further environmental technical reports to be submitted within the next couple of weeks
Other interested parties to be invited to comment
No timescales yet published but this will be down to the Secretary of State
The Secretary of State redetermination will consider all material submitted as part of Statement of Matters
2. Benefits & Legacy Update – Esther Gordon-Smith, Highways England
a. Routes Connecting Communities – The purpose of these routes is to connect communities with central services as well as to provide 'active routes' (non-motorised – i.e. cycling, pathways and bridleways). However, not all active routes are off-carriageways. The more people, the higher ranking the route would be but by no means that it excludes all others but priorities need to start somewhere. Various maps were presented mainly in the eastern edge of the A303 road project but also along Larkhill to Amesbury. The one route that would be more relevant to Berwick St James would be the one that connects all the routes - see map below. This currently would connect The Packway through to Amesbury (via Woodhenge) then up along open green area past Stonehenge and the Visitor's Centre and back to The Packway. This route did not include Winterbourne Stoke and Shrewton and neither did it highlight the importance of linking public transport facilites to connect these communities. Both these issues will be followed-up for action.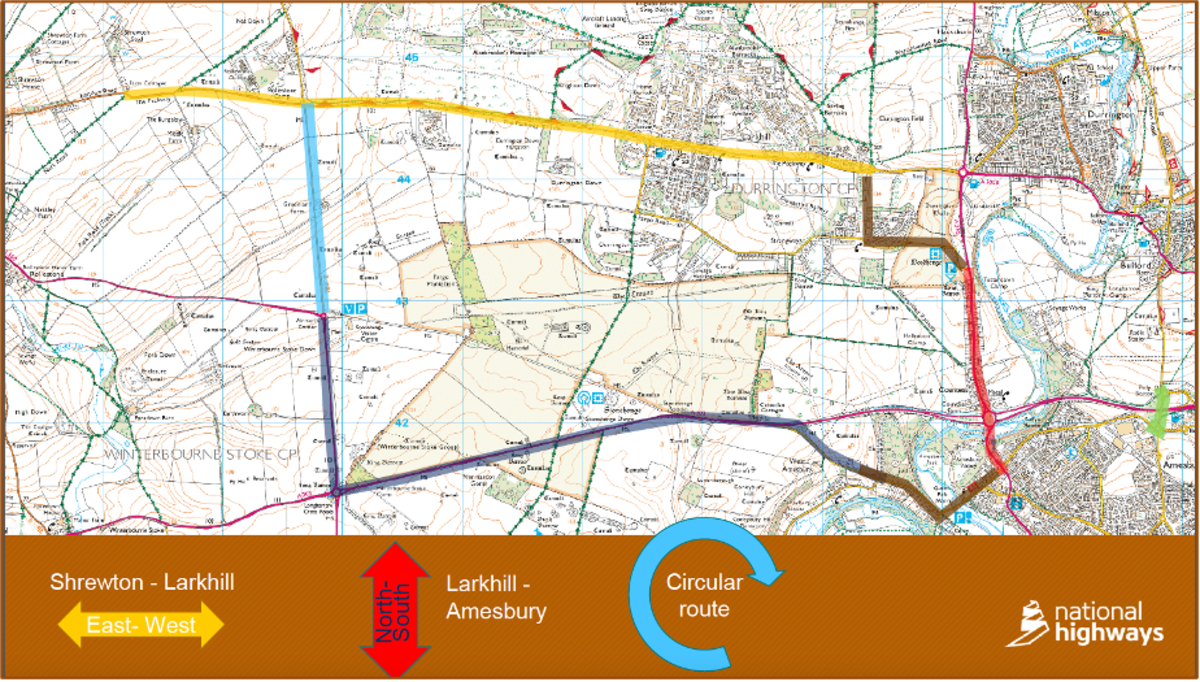 b. Opportunities for Legacy Events – Following a Community Forum event held in Salisbury in 2018, working groups were formed to explore opportunities to register as legacy events such as key biodiversity and community projects. These are on-going.
[Action: Berwick St James to explore biodiversity opportunities within the southern River Till valley and links with 'active routes'.]
3. Media Communication – Marcia Daniels, Highways England Senior Comms Manager
Due to the ongoing Statement of Matters, Highways England has maintained a very low profile in the media. In the meantime there has been some local press coverage driven by Ian West's petition for the A303 Stonehenge road scheme to be reviewed. The petition has over 1,000 signatures. Requests have been made to Highways England by local communities to provide data for fact-checking the claims outlined in the petition.
Highways England are currently working on new media projects together with a Questionnaire that will be forwarded to local communities to assertain key issues that need to be focused on.
----------------------------------------------------------------------------------------------------------------------------------------------
Tuesday 30 November 2021
A303 STONEHENGE ROAD SCHEME – Carolyn MacDougall
Update received 30 November 2021 from the Planning Inspectorate. For full details click on Statement of Matters below.
Following the High Court's Order dated 30 July 2021 quashing the decision to grant development consent for the A303 Amesbury to Berwick Down, the Secretary of State has issued his Statement of Matters (PDF, 162KB) and invites the Applicant to make further representations for the purposes of the re-determination of the application by 23:59 on 11 January 2022.
Following this, the Secretary of State will invite Interested Parties to submit further representations on the Applicant's response and on all other matters in this. The deadline for any such response will be confirmed here in due course.
Sunday 8 August 2021
A303 AMESBURY TO BERWICK DOWN ROAD SCHEME UPDATE
Notes following Community Forum Meeting held on 5th August 2021 – Carolyn MacDougall
Judicial Review (JR) – David Bullock, Project Manager, Highways England
David Bullock gave an update on the JR. In the ruling on July 30, Mr Justice Holgate found the decision was 'unlawful' on two grounds. There were concerns in the decision making process by the Secretary of State as there was no evidence of the impact on each individual heritage asset. He also found that Mr Shapps failed to consider alternative schemes in accordance with the World Heritage Convention and common law.
NB: The Examining Authority and Secretary of State had concluded that they did not need to consider alternatives because Highways England had already carried out a full appraisal of options before the Development Consent Order (DCO) application was made. The Court ruled that these had been wholly exceptional circumstances and that the Secretary of State was legally required to consider the merits of alternatives to the western cutting and portals.
As things stand at the moment the DCO is quashed.
What Next?
The Department for Transport (DfT) is considering its options and at this stage there are no indications as to what the next steps might be. What is clear is that the High Court ruling concerned points of law relating to the way in which the decision was made to grant permission.
The DfT could launch an appeal in which case there is limited timescale of a three-week window.
Even if they decide not to appeal, the DfT can apply for a "re-determination", which has no timescale. Understanding of this legal term: This is a process in which legal cases are reviewed and in this case, the DfT can request a formal change to an official decision as a process for error, clarification or interpretation of the law.
What does it mean to the project?
Archaeology work and A360 temporary closure postponed.
Q&A session to be rescheduled.
The process to appoint contractors will continue.
All other work connected to the project, for e.g. Rollestone junction, postponed.
Points raised
Landowners queried the status of the scheme as far as they were concerned. They were told to continue their businesses as usual.
Other A303 road development schemes, such as the Sparkford to Ilchister upgrade to the South West will continue.
Can the Winterbourne Stoke bypass happen without the Tunnel scheme? The answer was 'no'. To re-start the whole planning and examination process will not stack-up.
Would the Government be able to justify the additional expense of an appeal? As far as Highways England was concerned, the Government is fully committed to the investment of improving the whole route to the South West.
A point was raised that there are many discrepancies in what Save Stonehenge World Heritage Site are quoting in the press and the need for more data to counter-act their arguments was requested. There seems to be a very low-key voice from those who want the scheme to go ahead. Highways England says the best way forward is to canvass our politicians. It was noted that not all those attending the Forum were pro the scheme.
--------------------------------------------------------------------------------------------------------------------
Friday 19 March 2021
Key Notes from A303 Community Forum Online Meeting on 17 March – Carolyn MacDougall
Media – Marcia Daniels, Highways England
Highways England is working with local press and MOD to keep them fully up to date.
Setting up Communication Events – virtual or in person – before construction work starts.
Working on additional human story videos featuring local residents. [*]
Setting up a more effective way to communicate with local councils, villages and other relevant groups.
Project Update – David Bullock, Project Manager, Highways England
23-25 June confirmed for Roll Up court hearing.
Judge will make a decision whether to proceed (and on what grounds) by end of July.
Highways England continues to be confident of outcome.
All A303 preliminary fieldwork, including monitoring ground level water flow and quality continues.
Drones are being used to provide live data.
RSPB has not objected to the project.
Ecological observation being carried out on great crested newts, bat roosting, otters and voles.
Procurement of main contractors is progressing well.
Business Supply Chain: 200 local businesses have now signed up.
Protest camp has been disbanded.
Highways England is working with Wiltshire Council and the police with regard to possible future protests and the need to safeguard landlords' properties.
Contractors
Construction company, Osborne, is continuing with their preparation work and site surveys.
A construction location map has been requested and will be made available to the Community Forum.
Ecological work on Parsonage Down will take place in the summer.
Wessex Archaeology will continue with their fieldwork for the next 16 months to ensure all work is completed before the tunnel project starts.
120-130 archaeologists are on site with very detailed excavation work.
Full work commitment will be in place for the duration of the whole construction period.
Blick Mead water ground levels will be continually monitored.
There is no truth in the rumour that ½ million artefacts have been lost.
Date of next Community Forum meeting will be notified but it is unlikely to be before the court ruling.
[* If anyone has any ideas for story lines or to participate in the videos, please let me know]
----------------------------------------------------------------------------------------------------
18 February 2021
STONEHENGE - HIGH COURT PROCEEDINGS - Carolyn MacDougall
Following media coverage over the last few days with regard to campaigners winning a hearing in the High Court, below is clarification on the matter. While the coverage is accurate in that the project is to go to a High Court Hearing, it wrongly implies that the Judge has decided that there is a case to answer to. This is not yet the case. One has to assume that the Stonehenge Alliance group has sent out a press release in order to promote their campaign. The following are the facts:
The courts have not yet decided whether the application for a Judicial Review should be granted. The courts have nonetheless set out what happens next:
Next week there will be a Directions Hearing – where the court will give directions on how the case will progress including timetables and procedures to be followed. Lawyers from all interested parties will be in court.
This will be followed by a Rolled up Hearing at a later date - where a judge will decide if or not a Judicial Review will go ahead and if so on what grounds. There is no date set for this hearing at present.
As explained earlier, the legal challenge by 'Save Stonehenge World Heritage Site' is against the lawfulness of the Department for Transport (DfT) to give the Development Consent Order for the project to go ahead. It might well be that the judge decides there is a case to be answered to and it would therefore proceed to the High Court - we have to wait to see.
15 January 2021
AMESBURY TO BERWICK DOWN A303 ROAD SCHEME UPDATE – Carolyn MacDougall
This A303 update is based on information I obtained from the A303 Forum that was held on 19 November and updates I received this week from Highways England.
DEVELOPMENT CONSENT ORDER (DCO)
On 12 November last year the Secretary of State for Transport – Grant Shapps – granted the Development Consent Order (a permission that is required for any national significant infrastructure project) to start work on the A303 road scheme. We had been waiting for his recommendations one way or the other since early 2020. Rishi Sunak confirmed funds for the project in March 2020. In other words, the Government has overruled the recommendations made by the Planning Inspectorate, which advised that the Government should withhold consent. Here's a quick summary:
The Planning Inspectorate stated that the project would have adverse impacts that would outweigh the benefits. They said it would affect the universal value of the World Heritage Site and there would be considerable harm to the landscape – including loss of view of the stones. It did acknowledge that there would be some heritage benefits as well as benefits for transport, economic, community and environmental issues.
JUDICIAL REVIEW
We are currently still in the Judicial Review stage. All parties (or individuals) wanting to raise legal petitions against the Government's ruling had to do so by 24 December last year. These petitions are legal challenges against the lawfulness of the procedures and/or the consultation process but not about re-examining the road scheme itself.
Only one legal petition was received and that was from 'Save Stonehenge World Heritage Site' which is Stonehenge Alliance. They raised up to £50,000 from worldwide donations in order to launch their initial legal challenge. If they are successful, they will require to raise more substantial funds. The appointed judge will review their petition and will decide whether or not it can proceed to the High Court. We are assuming that Stonehenge Alliance's petition is to challenge the lawfulness of the Government's decision to grant Development Consent over and above the recommendations set by the Planning Inspectorate. The focus is on the World Heritage Site but as the road scheme is seen as one Planning Application, it would also include the Northern Bypass. At this stage I personally am not aware of any specific objections the Planning Inspectorate might have had regarding the Northern Bypass. We should know more about the Stonehenge Alliance challenge towards the end of this month.
Highways England states that they do not envisage that these legal petitions would delay the project in any way and in the meantime, fieldwork on site continues including evaluation and surveys.
WORK TIMELINES
Exact Timelines and location of works to be carried out by various constructors should be available later in the spring but we do know that some initial work could begin late spring or early summer this year. A map highlighting these should be available shortly.
Work that was taking place towards the end of last year related to essential repairs along the A303 in order to keep the traffic flowing and thereby avoiding unnecessary closures in the future. However, the Avon Bridge repair work will continue until March. We are told that frequent traffic monitoring will be on-going and modified as necessary to ease the flow of traffic and avoid rat-running.
4. CONSTRUCTION WORK
To-date one major UK construction company – Geofrey Osborne – has been appointed to do some initial work that is scheduled to commence late spring; these are:
* Site Clearance
* Laying of new access tracks – some of which will be temporary
* Modifications to some junctions – for instance the one at Rollestone crossroads
* Construction of satellite work compounds – The main one will be located at the current Longbarrow Roundabout with two smaller compounds near Winterbourne Stoke and the Countess Roundabout.
* There will be a new water mains pipeline installed between Winterbourne Stoke and the work compound at Longbarrow – we are told that this water supply will be used for processing the spoil.
The tunnel construction phase will not begin until late 2022 or early 2023. Constructors will be multinational companies from Europe as this is where the expertise exists. Highways England is currently in dialogue with three bidders and expects to appoint the main contractor by the end of this year.
It is estimated that the workforce at any one time would be in the region of 350 personnel.
LOCALLY SOURCED FACILITIES
As this workforce will be from outside the area they would be unfamiliar with local amenities, which gives the local communities an opportunity to benefit financially. They will be seeking to locally source facilities such as: Plant Hire, Transportation, Accommodation, Food, etc. A supply chain platform is being set up to co-ordinate between suppliers and constructors. In terms of businesses, Highways England has launched an "A303 Stonehenge Business Directory' 'https://highwaysengland.co.uk/our-work/a303-stonehenge/supply-chain/ Likewise, there is also a Meet the Buyer event taking place on 21st January https://www.eventbrite.co.uk/e/a303-stonehenge-meet-the-buyer-tickets-135982468223 There will be more information forthcoming regarding accommodation requirements.
ARCHAEOLOGY AND SURVEYS
Wessex Archaeology has been working with Highways England from the start of the project. They are the UK's leading archaeology and heritage company and have recently worked with the army-basing programme on Salisbury Plain. They have been involved in the World Heritage Site for over 20 years so have great knowledge of the area. All the work carried out on the A303 project, so far, has turned up some interesting finds but as yet nothing 'unexpected'. Their survey work continues.
6. THE NORTHERN BYPASS (refer to map)
With regard specifically to The Northern Bypass – this section will not be completed until most of the spoil from the tunnel is transferred to a large area at Parsonage Down, which is located north of Winterbourne Stoke along the B3083. The water in the chalk will be removed prior to transportation and we have been assured that no run-offs will affect the rivers and specifically the River Till. Highways England has no exact timings for completion of this section of the scheme but estimate approximately 2-3 years from start of construction.
The B3083 will remain open at all times except when the road is switched to the new alignment. This will involve either overnight closures or potentially a bit longer. There is also likely to be a crossing for construction traffic so a set of traffic lights may be set up to manage the flow.
MEDIA
On the media front and with regard to counteracting any negative press coverage by, for instance from Stonehenge Alliance, Highways England is dealing with many issues behind the scenes. With the Judicial Reviews still pending, matters are extremely sensitive at this time. Highways England is planning some virtual public information events in March and possibly April - these will highlight the progress of the scheme.
OUR COMMUNITY COMMITMENT
There is no doubt that this project will severely impact our area for many years especially during construction. Our aim is to work closely with Highways England and other communities so we can continually engage in important issues. Examples of which:
* Protecting our rivers from pollution
* Preserving our countryside and the natural habitat
* Discouraging rat-running
* Having ease of access to key roads
* Monitoring noise and air pollution during construction
* Conserving public footpaths and bridleways
* Security issues that might occur
---------------------------------------------------------------------------
03 July 2019
Timetable and Viability of Stonehenge Tunnel at Risk
Funding of the Stonehenge tunnel at the mercy of the long-awaited Spending Review
Transport and Highways England need a clear picture of what improvements they are expecting at Stonehenge
Extremely challenging to deliver South West road improvements on time and budget
Report summary
After several failed attempts, the government believes that it now has a Stonehenge tunnel scheme that is affordable, deliverable and has the support of heritage and environmental bodies.
However, decisions on how to fund the project are on the critical path for the planned opening date of 2026 and are now at the mercy of the much-awaited Spending Review. Delaying those decisions further will jeopardise the opening date.
The Stonehenge tunnel project, expected to cost around £1.7 billion (excluding VAT), is a key part of the government's plans for the A303 road corridor. The Department and Highways England expect it to deliver significant heritage benefits as well as easing road congestion. Yet the Department and Highways England do not yet have a clear idea of what improvements they are expecting to see at the World Heritage Site and the surrounding area.
The Department and Highways England aspire to upgrading the whole A303 road corridor to dual carriageway standard to improve connectivity and support economic growth in the South West. However, it is not yet certain that all eight road improvement projects needed to do this will go ahead.
So far, the Department has only committed to starting three out of the eight projects required along the route. With improvements to only some parts of the road corridor, traffic congestion is likely to be eased at some points but pushed to other sections of the road. Similarly, the contribution of any one project to enabling growth in jobs and housing is undermined if neighbouring projects to provide a free-flowing and reliable road connection are not given the go-ahead.
It will be extremely challenging to deliver the South West road improvements to cost and time, and the Department does not have a good track record in delivering major projects. The region needs a properly integrated transport strategy, going beyond road to incorporate rail, sea and air, but the bodies tasked with delivering this strategy are still very immature.
Comments from Deputy PAC Chair Sir Geoffrey Clifton-Brown MP
"Government plans to open the Stonehenge tunnel by 2026 remain in doubt until a clear decision is made on how to fund the £1.7 billion (excluding VAT) scheme. To meet the proposed timetable a funding decision is needed by the end of this year.
"Stonehenge is one of the world's greatest heritage sites. There is a pressing need for the Department for Transport and Highways England to set out exactly what benefits visitors and local people near the site can expect to see as a result of the scheme.
"The tunnel is just one part of major plans to the upgrade the A303 corridor to support economic growth in the South West. However, the government's piecemeal approach makes it hard to show the programme is value for money.
"Unless there is a co-ordinated approach to all eight of the proposed projects there is a risk that traffic jams will be merely shunted along the road.
"It will be extremely challenging to deliver the South West road improvements to cost and time. My Committee knows from bitter experience that Transport do not have a good record in delivering major projects punctually. We expect government to update the Public Accounts Committee on the expected cost and opening dates.
"As a South West MP, I am pleased to see among the report's other findings consideration for other projects in the region including the A417, known as the "missing link" or Air Balloon scheme joining the M5 to the M4. This offers the potential to considerably reduce journey times, improve connectivity and promote job growth in the South West."
Conclusions and recommendations
If uncertainty about funding is not resolved before 2020, the timetable and viability of Stonehenge tunnel project will be put at risk. The Stonehenge tunnel project was to be financed under the PF2 private finance initiative but in October 2018, the Chancellor cancelled future private finance deals, including for this project. The Department says that it and HM Treasury remain committed to the project and the Treasury has released funding of £21.5 million during 2019-20 to allow the project to keep going. However, the Department does not expect to fund the project from its £25.3 billion draft funding envelope for the second Road Investment Strategy (2020 to 2025). It intends to make a case to HM Treasury for additional funding for the project as part of the next Spending Review, the timing of which is still uncertain. The Department says that only having a one-year settlement would raise questions about whether the scheme could continue to the same timeframe. Highways England says that it must have funding certainty by the end of the year if it is to begin the commercial process to find a construction contractor in the first quarter of next year and keep to its 2026 target opening date. It says that without funding clarity, potential suppliers will not be willing to incur the high bidding costs involved. The Department's view is that "if we want this scheme to continue, and to continue in a sensible and efficient way to the current project timeframe, we cannot wait another year, or however long it takes to carry out a spending review."
Recommendation: The Department and Highways England must plan for what alternative funding arrangements or delivery plans it could put in place, in the event that HM Treasury does not confirm longer term funding by the end of the year.
It will be extremely challenging to deliver the South West road improvements to cost and time. The Department does not have a good track record in delivering major projects. Decisions on how to finance the Stonehenge tunnel project have already delayed it by two years and the timetable looks very challenging. We understand that between now and 2021, when construction is scheduled to start, as well as getting clarity over funding, Highways England must also obtain the necessary planning consents, negotiate with contractors to find a preferred supplier and complete the detailed design for the project. Highways England and the Department are nonetheless confident that they can deliver the Stonehenge Tunnel project by 2026 and the A358 Taunton to Southfields project, for which the preferred route announcement is at least six months late, by March 2025. They are similarly confident that they can deliver the projects within budget. Given the Department's performance on other major projects in recent years, for example Crossrail, where costs have overrun to the tune of nearly £3 billion and the timetable extended by at least one year, we are more cautious.
Recommendation: The Department and Highways England should write to us in six months with an update on the Stonehenge tunnel and A358 projects, including updated cost estimates, risk assessments, and an up to date schedule and confirmation of the latest planned open to traffic dates.
The Department and Highways England do not yet have a clear picture of what improvements they are expecting for the World Heritage Site and the surrounding area. The Stonehenge tunnel project has both heritage and transport benefits. Despite heritage benefits making up 73% of total business case benefits, the Department for Transport is funding the project. By removing much of the road from view, the Department and Highways England plan to help conserve and enhance the World Heritage Site and make it easier to reach and explore. For such a large investment in one of the World's greatest heritage sites, we expect there to be innovative schemes for encouraging more people to visit the site and the surrounding areas. Yet the Department could not point to any specific plans for what tangible benefits visitors and local people who live near the site are likely to see.
Recommendation: Within 3 months the Department and Highways England should set out how they will be working with Historic England, English Heritage, the National Trust and wider stakeholders to develop plans for making the most of improvements to the World Heritage Site and local area, and set out when the public will be able to view these plans.
The Department and Highways England's piecemeal approach to upgrading the A303/A358 makes it more difficult to demonstrate value for money across the whole road corridor. In 2014, in its first five-year Road Investment Strategy, the Department made a long-term commitment to upgrade the A303/A358 corridor to a dual carriageway over the following fourteen years. The Department now describes its plans for the entire A303/A358 corridor as an aspiration rather than a commitment. It committed £2 billion to starting three projects at Stonehenge, Sparkford and Taunton, out of a total of eight needed, by March 2021. The Department and Highways England expect the impact from completing the whole corridor to be greater than the sum of its parts but they have not produced a programme level business case to demonstrate this. Instead, each project's business case must stand on its own merits and will be considered alongside other priorities across the country. However, considering business cases for the five uncommitted projects individually, rather than as part of a programme, may mean that some projects are not approved. If they are not all approved, the Department will struggle to deliver its strategic ambitions to deliver a free-flowing route to the South West and unlock growth in jobs and housing. Furthermore, congestion relieved on one section of upgraded road may simply be pushed along to the next section of single carriageway. the road. The Department agrees that it would be sensible to follow a more programmatic approach when considering value for money, for example, in setting clear objectives for the corridor, sequencing the individual projects and in capturing and managing corridor-level benefits.
Recommendation: The Department and Highways England should set out how assessment of business cases for individual projects will take account of benefits which depend on the completion of other projects which may or may not be subsequently approved.
The sub-national transport bodies in the South West are not yet mature enough to develop or implement an integrated transport strategy for the region. The Department's recent publication 'Investing in the South West' is more of a list of projects that are already planned or underway than a strategy. The Department says that it will be for the newly established sub-national transport bodies in the South West, Peninsula Transport and Western Gateway, to determine a transport strategy for the region, with the Department's support. It expects these bodies to bring together the economic expertise of the LEPs with transport planning expertise to help deliver an economic vision for the region. The South West bodies are less than a year old, they have not yet approached the Department for funding and it could be some time before they are able to deliver a strategy and carry out real value-added functions on behalf of the whole region.
Recommendation: The Department should set out how it will support and monitor the development of sub-national transport bodies in their efforts to deliver an effective integrated transport strategy for the South West.