Social History
PHILIP BLANCHARD and HMS HANNIBAL
Philip Blanchard was born in Berwick in 1834 and died here in 1914 aged 80.
But he did not spend all his life in the Wiltshire countryside. In 1858 aged 23 he joined the Royal Marines at Portsmouth. This was not unusual as his uncle Issachar had also enlisted (in 1830) aged 23 in the Royal Marines. Issachar also returned to Berwick.
Philip served in the Royal Marines from 1858 to 1877 – 19 years, becoming a corporal. He returned to Berwick with a pension but worked as an agricultural worker. He had lived in Gosport with his wife Susan and several of their children were born there, they returned to Berwick with their young family and more children were born here, their son Frank Cecil was his last child to be born in Gosport, and he came to Berwick under 2 years old – he joined the Royal Marines and was killed in the Great War in 1915 (and is on our war memorial).
One ship Philip served on was HMS Hannibal.
She was a 91 gun second rate ship of the line, built at Deptford Dockyard by Charles Willcox Master Shipwright and launched on 31 January 1854. She was powered by both sail and screw (steam) and was 217ft long and 58ft wide with three decks and fought in the line of battle with her 91 guns – 32 pounders on the gundeck, 18 pounders on the middle deck and 12 pounders on the upper deck. She served in the Crimea War – before Philip joined her.
In 1861 Philip was on board with approximately 750 sailors and 110 marines. His Royal Marine commander was Captain John Pickard, the Captain of the Hannibal was Captain Arthur Farquhar, and it was the flagship of the fleet in the Mediterranen and Rear Admiral George Rodney Mundy CB was on board with his personal secretary, servants, steward and cook who was French.
The previous year HMS Hannibal had assisted Garibaldi in his "Expedition of the Thousand" where he had landed in Sicily to help in his aim to unite Italy (the Kingdom of Italy was created on 17th March 1861). HMS Hannibal transported Garibaldi's soldiers – the ship arrived in Naples in July 1860 and in November a smallpox epidemic broke out which 90 men on board caught, 7 died and are buried in the English Cemetery Naples. Philip may well have been on board when this happened (more research needed!). HMS Hannibal was turned into a hulk in 1874, and finally broken up in 1904.
After all the excitement of the life of a Royal Marine, Philip returned with his family to Berwick and lived the rest of his life here, living for many years in Godwins Cottage.
Written and researched by Nicky Street.
HANNAH BLANCHARD'S STORY
Hannah Blanchard was born in April 1813 to James and Maria Blanchard. She worked as a servant, and gave birth to a base born daughter Emma in March 1834. She knew she would lose her job so, in January of that year she went to the Justice of the Peace and "made oath that she is great with child" and would have to claim poor relief. She said the father was William Pressley, and he was ordered to "indemnify the parish", by Thomas Kellow, Overseer of the Poor.
Hannah and William married in Berwick on 19th May 1834. This would seem to be a happy ending, but this is not the end of the story.
To understand the situation you need to know about the Poor Law.
Those who could not support themselves could apply for Parish Relief, which was paid by a tax on the better off of that village. No-one wanted to pay people who did not come from their village, so a whole lot of legal stuff about "place of settlement" came about. Your place of settlement was where you last spent two continuous years. This affected many things including employment. Employers were usually the people who had to pay the Poor Law tax, and so would choose employees who were unlikely to ever need poor relief.
At Michelmas (September) 1834 William Pressley lost his job with Mr Kellow at Berwick. (possibly the same Thomas Kellow, Overseer of the Poor.) In November 1834 he, Hannah and Emma claimed poor relief and were "examined" to find out their "place of legal settlement". If Hannah had remained single, she and her daughter's "place of legal settlement" would have been Berwick.
William Pressley was born at Ditchampton in Wilton. Aged 15 he was sent by his father to work for Mr Seagrim at Ugford (near Ditchampton) for a year, he then had another annual agreement, and then a third. He then worked for 1 ¾ years for Mr Thring of Bulbridge, and in September 1831 aged 20 he started work for Mr Kellow at Berwick as a carter. He worked for Mr Kellow for three years, but the agreements were firstly for 50 weeks "he went home for a fortnight" then "for 51 weeks … he then went home again for one week but before he went he agreed with Mr Kellow to return and live with him for 51 weeks". The two JP's decided that William Pressley's place of legal settlement was South Newton (because Ugford is in the parish of South Newton). The family were removed to South Newton on 30th December 1834 (with a bill for 15s for poor relief).
Mr Kellow knew the system (unlike Mr Seagrim). William Pressley was probably a good carter – he worked there for three years – it is likely he was not allowed to marry as Mr Kellow would have to provide a cottage, and then it would be much more difficult to only employ him for 50 weeks each year – and be believed by the JP's!
Perhaps we should not condemn William Pressley for his treatment of Hannah Blanchard, for he was caught up in a system where he could not win. I hope they were happy in South Newton – but did they stay there?
Written and researched by Nicky Street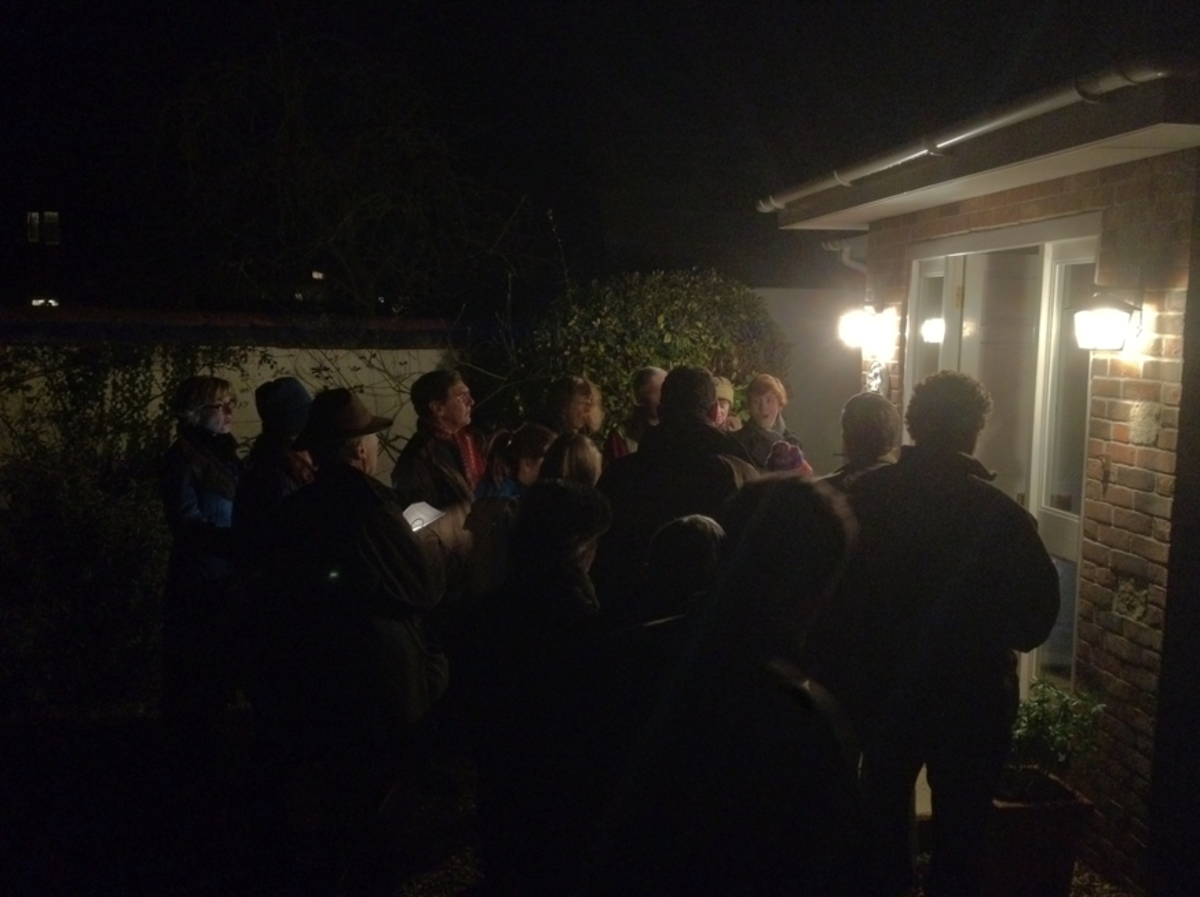 CAROL SINGING
Berwick had its own traditional carols and these were sung around the village. Edith Olivier of Wilton compiled "little books of traditional recipes and folklore" from contributions sent in by Women's Institute members. These are the memories of Mrs Cook of Berwick St James as recalled in 1930.
"From far back beyond living memory, the men of Berwick have gone out carol-singing in earliest hours of Christmas morning. The carols are not written, but handed down from generation to generation. There are recitative passages, too; and they end with;
We wish you a merry Christmas,
We wish you a merry Christmas,
We wish you a merry Christmas,
And a Happy New Year!
It is a thrilling thing to be awakened in the dark or the moonlight of a Christmas morning, at about two o'clock, perhaps, by the powerful men's voices.
When we came here first we did not understand, and crept shivering out of bed to hurl down money and thanks (not perhaps of the heartiest). But it was explained to us afterwards that nothing is expected at that hour, but that the listeners shall stay snug in bed and realise that it is Christmas morning.
The carol singers come again in the evening of Christmas Day, and then is the time for thanks and shillings.
The words of the carols are more or less secret. One may write them down as one hears them, I suppose, but that, somehow, is not easy. Mr Kitley, of this village, who is 78 and who sang the carols for most of his lifetime, tried to get me a written record of them. "I asked Tom Blanchard, and he wouldn't say as what he would and he wouldn't say as what he wouldn't". Mr Blanchard seems to have special rights in the carols, because 70 years ago or more his great uncle Isachar Blanchard, was leader both of the carol-singing and of the Berwick Band.
Isachar was "a noted man with the violin" He used to take his violin and accompany the carols with it. (I should like to note, in passing, that about 100 years ago the church music in Berwick used to be two violins and a bass viol.)
This year the words of the carols were written down for the use of some lads going out for the first time. But these were told to let no-one else see them.
Years ago, the singers used to practice on Christmas Eve in a house – now pulled down - that stood somewhere opposite the present Reading Room. At midnight they started out. In those days they did not go to Winterbourne Stoke. During the last dozen years or so the old customs have begun to break up. Nowadays the singers go to Winterbourne Stoke on Christmas Eve and have already sung there before they begin their singing in Berwick on Christmas morning."
The cottage referred to was in what is now the garden of The Boot Inn, with a garden that reached down to the river. It may not be a co-incidence that the carol singers practised in a cottage next to the pub! It was used as a barn by 1880, continued as outbuildings for the Boot Inn and demolished before 1921.
Traditional carols are medieval in origin, declining in popularity after the Reformation, but survived outside the church in rural areas. There was a revival of Christmas Carols in the Church in the mid 19th century when most of the well known carols were first written down, and many carols and Christmas hymns written. The first service of Nine Lessons and Carols was held in Truro in 1880.
Written and researched by Nicky Street.
There is now the 2001 Census details which can be found on the Community Plan page - It is quite interesting
CYRIL EMM'S LOVE AFFAIR WITH ALLIS CHALMERS
This is not a love story about a man and a woman. Allis Chalmers is not a girl but a company, an American company who specialised in making agricultural machinery to be exact. The company was formed in 1901 but disolved in 1999, and during almost 100 years of operation produced some of the most advanced agricultural machinery of its day. Before and directly after the war, Allis Chalmers tractors led the field, but their position in the market directly after the war was blighted by a crippling 11 month labour strike, allowing competitors to grab a market share. Much of the machinery available to farmers in the 20s, 30s, and 40s came from America, and a large percentage of it was produced by Allis Chalmers.
Cyril Emm was born in Stratford Tony in 1930, and as a young lad always had an interest in farm machinery. His first job was working for H.D. Coles, a farmer in Fifield as a tractor driver, rapidly earning a reputation as a skilled and capable machine operator. In 1950, he married Joanna
moving to Berwick St James in 1954