Green Lanes
For the latest news updates on this subject see the News section:-
12 December 2018 news bulletin
The Traffic Order is in effect, new signs have gone up, and as from 1st June 2018 motor traffic is banned from Bosenhill Lane, Green Lane and Dark Lane. This is the culmination of a campaign which has been going on for at least 5 years. The ban applies to all motorised vehicles – trail bikes, quad bikes, 4x4s or whatever. The only exception is for landowners of adjacent land who have a legal right to drive on the lanes for access.
Some of the damage done over the last few years is permanent (much of the old flint road surface of Bosenhill Lane is smashed to bits and there are deep mud-holes and ruts in some places), but if the ban works we can expect the lanes to recover over the next few years, to the point where they are once again a pleasant place to walk or ride a horse or bicycle.
Hampshire County Council has decided not to install gates for the time being, but will reconsider this if the signs prove ineffective in preventing illegal use. If you see any motor traffic on the lanes it should reported to the police on 101 as it is now an offence. It would also be helpful if you let Derek Chapman know on warnfordrow@gmail.com as we need to monitor the situation and report illegal driving to HCC.
Thanks to everyone who has supported the campaign over the past years.
Background – Warnford's Green Lanes
The map below shows Warnford Parish's four "green lanes" - Green Lane, Dark Lane, Bosenhill Lane and Farm Lane. They have a total length of about 2.5 miles.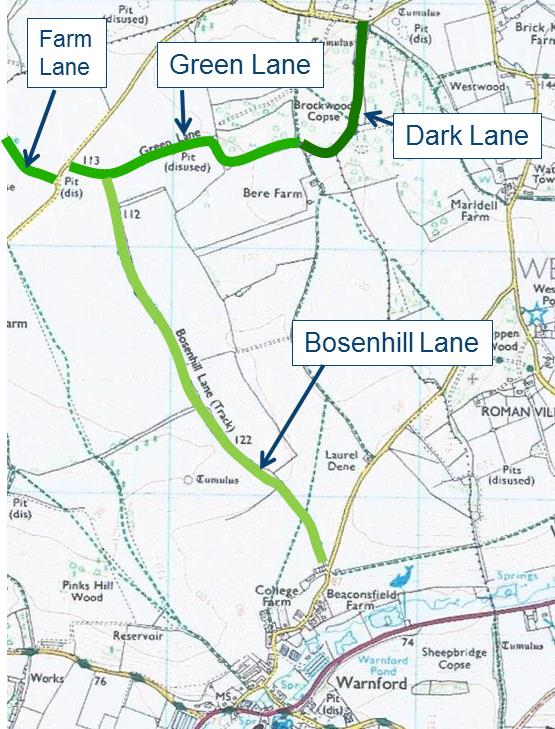 They are unsealed Unclassified County Roads (uUCRs) so, until the TRO was put into effect, any kind of traffic could use them legally. They have a long history, being shown on the earliest maps of the Parish. There are (or were) long stretches of ancient flint metalling and parts of the lanes are flanked by strips of residual woodland which contain many varieties of trees and flora and form an important environmental asset in a farmed landscape.
From the advent of motor traffic in the 1930s until about five years ago these lanes were used almost exclusively as bridleways, forming a very useful route northwards out of the Parish towards Bramdean and Hinton Ampner. The lanes form an important part of the network of access to the countryside in this beautiful part of the South Downs National Park, in an area where the local main roads are heavily used by motor traffic and have virtually no facilities for safe use by pedestrians, cyclists and horse riders. Only one short section of Green Lane is now regularly used for farm access to adjoining land.
Problems
Over the past five years there has been a massive increase in the use of the lanes by recreational "off-road" 4x4s, quad bikes and trail motor bikes. The lanes are advertised on various off-roader websites as some of the best in the area.
For more than six months of the year Dark Lane and parts of Green Lane and Bosen hill Lane are now dangerous to pedestrians , equestrians and cyclists. In some places safer routes have been created by trespassing on adjacent land. There is damage to the local environment and the ancient flint surface of Bosenhill Lane is being rapidly broken up and forced down into the mud.
At the junction of Green Lane and Dark Lane, north of Bere Farm, a "4x4 playground" has been developed using part of Dark Lane, an illegally created track in private woodland and a length of public footpath. Use of this during the last three winters has been intensive, with several visits per week and noise going on until the early hours. The wet spring and early summer of 2016 extended this problem through to July. Rubbish and damaged vehicle parts are left strewn around and there is damage to the local environment, both from the vehicle movement and hacking down of young trees to make a trackway. The drivers of these vehicles have adopted aggressive and threatening behaviour when asked to stop.
Action Taken
Lanes of this kind are classified either as "unsealed Unclassified Roads" (uUCRs) or as "Byways Open to All Traffic (BOATs). The difference is only one of legal classification– both cover "green lanes" of the kind we have. However uUCRs are the responsibility of the HCC Highways Department whereas BOATs are the responsibility of the Countryside Service.
According to its website, HCC recognises that excessive vehicular traffic on this kind of road can cause problems and it will listen to complaints, particularly where motor cycles and/or 4x4s are driving up and down sections of the lane repeatedly ( known as "mud plugging").
The irresponsible and illegal behaviour has been reported to HCC Highways, Police, Winchester City Council, local Councillors and the local MP on many occasions over the past five years.
Police have taken some action, putting up signs and for a short period using a concealed video camera in an attempt to capture evidence. Warnings have been issued to two individuals. In addition a meeting was held with a representative of off-roader bodies, all with no discernible effect.
HCC has the responsibility for maintenance and installed a drainage channel and soakaway in 2012 to mitigate flooding at the worst mud hole which was threatening adjacent property. The drainage channel has deliberately and repeatedly been blocked to deepen the mud hole and the soakaway pit has become clogged, partly because of its use by trail bikes in their off-road circuit.
HCC has the power to issue a Traffic Regulation Order (TRO) restricting use of a road by motor vehicles for the following reasons:
- avoiding danger to persons or other traffic using the road or any other road
- preventing damage to the road
- facilitating the passage of any class of traffic (including pedestrians)
- preventing the use of the road by unsuitable vehicular traffic having regard to the existing character of the road
- preserving the character of the road in a case where it is specially suitable for use by persons on horseback or on foot
- preserving or improving the amenities of the area through which the road runs
- conserving or enhancing the natural beauty of the area including its flora and fauna
- affording better opportunities for the public to enjoy the amenities of the area
According to information on HCC's website, about 40 TROs have been issued in Hampshire preventing motor vehicles being driven on BOATs in the past twenty years. No comparable information for uUCRs has been published.
A number of meetings both on site and in HCC's offices have been held at which the various options have been discussed.
On 15th December 2016 our HCC representative (Councillor Huxstep) chaired a meeting with HCC, Police and Parish representatives as well as all bordering landowners. The Parish presented its case, arguing that ban on motor vehicles on Bosenhill Lane, Green Lane and Dark Lane was fully justified in terms of the criteria listed above. Police and bordering landowners were strongly supportive. An Order proposing to ban motor traffic on the lanes was drafted and advertised by HCC in the summer of 2017. Twenty two messages of support were received and only three objections. After many months of delay, the Order was put into legal effect on 1st June 2018.