Village Hall
Warnford Village Hall is a feature of the village. Converted in 1997 from a former farm building and with a maximum capacity of 100 people, it is warm and homely and has a cottage feel. It lies at the heart of the village on Lippen Lane, approximately 150 yards from the A32 (see map below).
The hall has a solid oak floor, with character features such as exposed beams and brickwork, oak benches and a hoist wheel. It has recently been redecorated. There is a small patio area to the rear and a dedicated car park is directly across the lane. Hirers have free use of folding tables and chairs to seat up to fifty people and also of the well equipped kitchen with dishwasher and fridge/freezer. Free wi-fi is available - click here for more information.
The hall is used for many activities including:
Classes in yoga, pilates, keep fit and dancing
Adult and children's parties
Lectures and discussion groups
Business meetings and demonstrations
Club, society and public meetings
Small exhibitions
Small wedding receptions and wakes
Walking and cycling group gathering point
The hall is about 100 yards along Lippen Lane from the Village Playground which is very pretty grassy space by the River Meon, open to the public – for more details click here. It is close to the South Downs Way and makes a lovely centre for walks in the Upper Meon Valley. For ideas for walks click here. Car parking can be made available to walking groups by prior arrangement.
For booking information contact Amie Boyes on 07887 946169 or email warnfordvillagehall@yahoo.co.uk
The hall is run as a Registered Charity by a small group of dedicated volunteers from the village. We are always looking for local people who are willing to help look after the hall and ensure it can continue to be a benefit to the community. We like to think we are a friendly lot and committee meetings are generally fun as well as dealing with serious business.
The 150 year old building has had many uses over the years including as a cow byre, laboratory, education establishment and farm shop. It was renovated and given to the community as a village hall in 1997. For more on the history of the building see the Village Hall History page.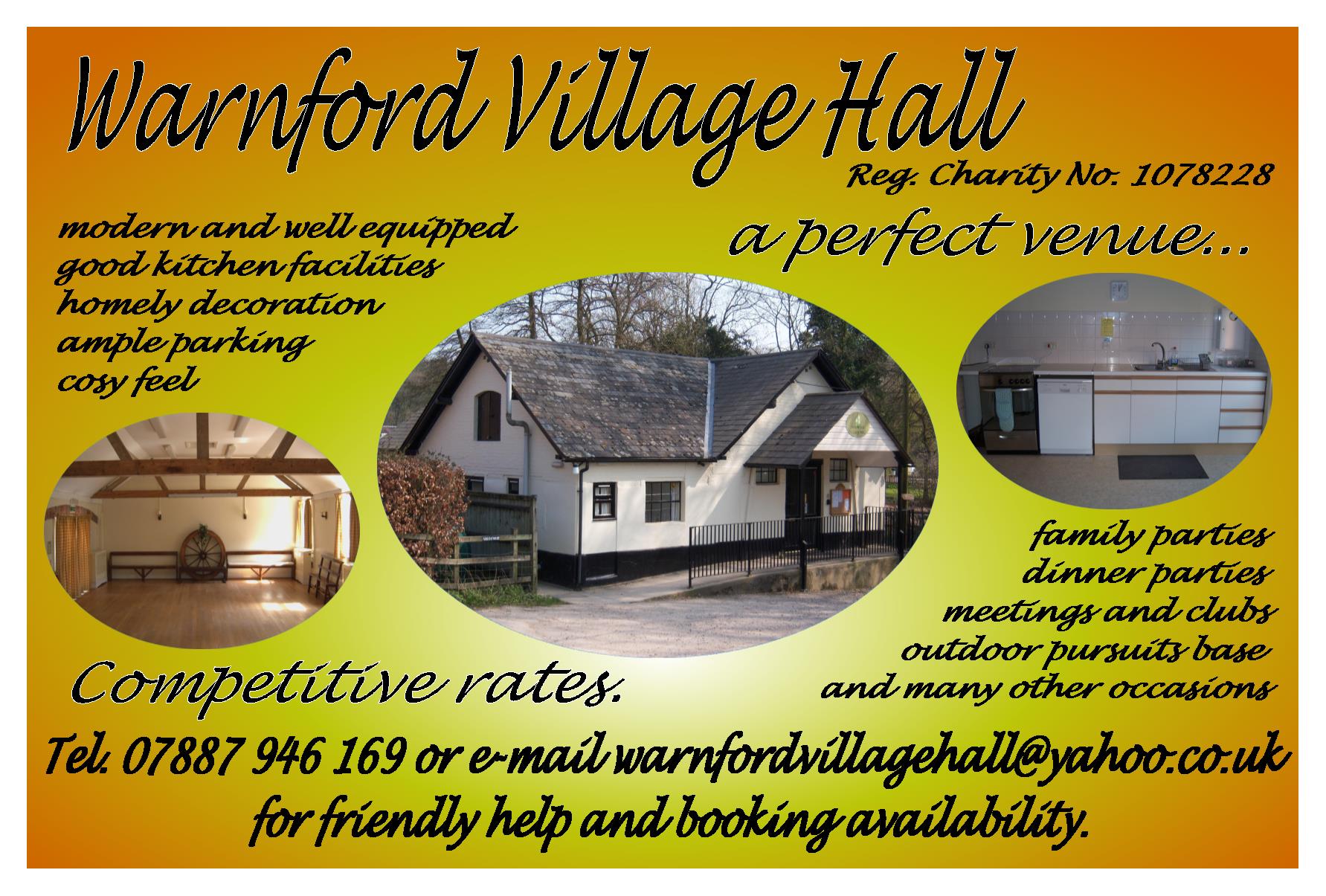 Warnford Village showing the Village Hall