Longer Distance Footpaths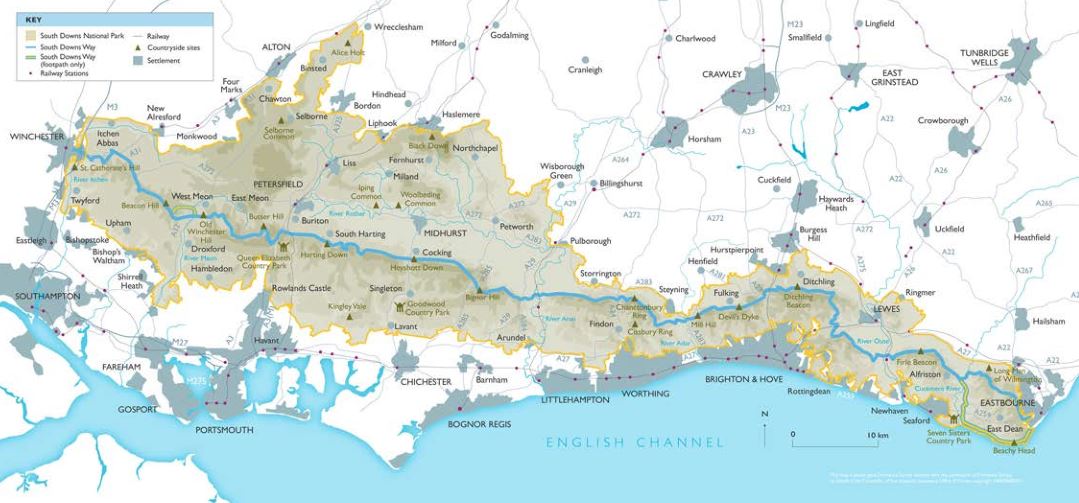 A number of ancient long distance routes exist that cross the 1,600 sq km of the South Downs National Park and come close to Warnford. These include:-
Monarch's Way - 615 miles long this route starts in Worcester and meanders eventually to Shoreham-on-Sea. It is based on the route travelled by King Charles the Second when he made his escape after defeat in the final battle of the English Civil War in 1615.
Pilgrim's Trail - This is the medieval route taken by the Miquelots, pilgrims who took the 155 mile journey to worship St Michael in Normandy The trail starts at the shrine of St Swithun at Winchester Cathedral and makes it's way to Portsmouth harbour via Bishop's Waltham and Southwick. From Portsmouth the route goes over the sea to the sanctuary of Mont St Michel in France.
South Downs Way - This is a stunning 100 mile trail from Winchester to Beachy Head, Eastbourne and lies entirely within the South Downs National Park. A popular journey for walkers, cyclists and horse riding.
Wayfarer's Walk - This walk links the mudflats along the south coast with the highest downland in southern England, following the ancient tracks used by shepherds driving their flocks to various fairs and markets. The 71 mile route takes in Hinton Ampner House (now a National Trust property) and Watership Down, made famous by the Richard Adams novel of the same name.
Details of these can be found by clicking on their name above, or by visiting the Long Distance Walkers Association website.