Warnford Park
Before the Norman Conquest there were two manors at Warnford, one held by King Edward and the other by Hyde Abbey, Winchester, but at the time of the Domesday Survey Hugh de Port held them both and they soon came to be regarded as one manor, Warnford Park.
Little is known of the early history of the Warnford estate. The earliest park enclosure was probably a deer park which stretched between Beacon Hill and Old Winchester Hill.
In 1754, the estate was purchased by eleventh Earl of Clanricarde. At this time, the park was remodelled by Lancelot 'Capability' Brown with the main layout noted as having been completed by 1782.
By the Victorian era, the park was quite wooded and views show the mansion sitting in a Brownian-style landscape park with the River Meon forming a lake beside the mansion. Alterations to the park at this time included laying out a new approach to the mansion from Portsmouth Road which swept over a bridge across the river.
In the late Victorian era there were further alterations, including a formal sunken Italian garden to the east of the house and considerable ornamental planting in the pleasure grounds. A great deal of planting was undertaken in the park and views were opened up so that Beacon Hill was visible from the house.
This section contains some of the earliest photos of Warnford Park.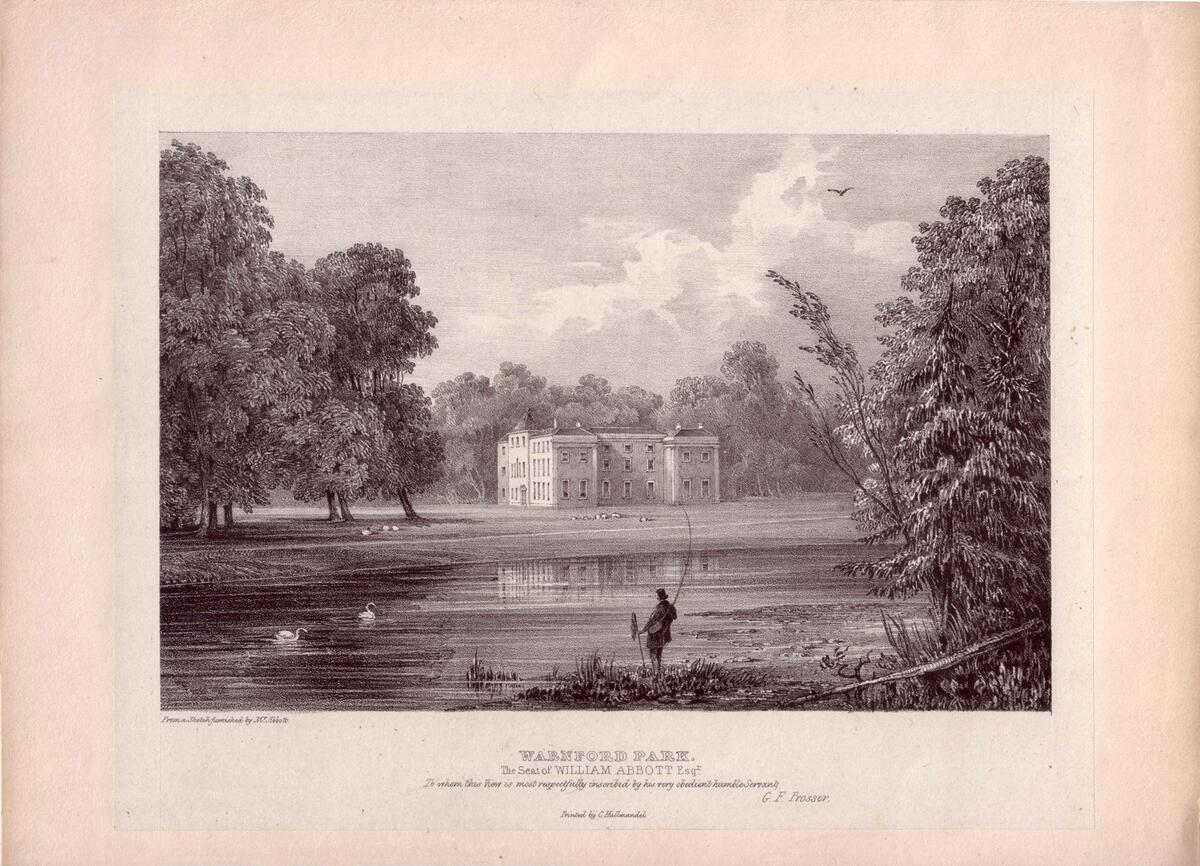 Dower House and Raised Terrace
The 18th century bath house (also called The Dower House) was built at this time to a design by Capability Brown in the Strawberry Hill Gothic style. This Dower House or Lady Mary's Bath House sits centrally on the south side of the pleasure grounds, astride the formal channelled watercourse (now dry). This gothic garden pavilion is built on a raised terrace, commanding views across the southern park, previously called Cowley's Meadow.
Views of the Original Warnford Park House - King Johns House
This ruined building is one of a small number of early 13th century halls, comparable in size and form to the hall at Oaltham, and built about 1210 by Adam de Port in the time of King John. The house is a flint hall of three bays, with internal dimensions of 52ft. by 48ft., and a central span of 25 feet.
There is a two storied block at the west end, of the width of the hall and 18 feet long, the upper room or rooms, the solar, reached by a stairway rising from the north aisle of the hall. The floor level of the service rooms is lower than the level of the hall probably to give sufficient height to the solar.
It was replaced by the new Warnford Park House by the Neales, probably in the 1580's. It was still roofed and used as a barn and store until the Clanricardes owned the estate in the 18th century, when romantic ruins came into fashion, and it was "slighted" between 1779 and 1783.