Heathrow Fuel Pipeline
Southampton – London Pipeline Project - Updates
For the latest information on the progress of this project and possible future road/footpath closures click on the link below under "relevant documents and updates".
Note: The last update posted below will be February 2023 at which point the project (as far as it impacts the village) is mostly complete. Subsequent information, if required, can be obtained via this link.
Southampton – London Pipeline Project - Update July 2021
The Esso pipeline from Fawley refinery to Heathrow, which crosses a corner of Warnford parish, is being renewed. The project has been approved by Government under a Development Consent Order and is now proceeding. The project website www.slpproject.co.uk gives full information on what is planned. The purpose of this update is to give Warnford residents a brief summary of how it will affect the Parish, and when.
It is worth noting that landowners directly affected have already been contacted, that the new pipeline will not pass under any houses or gardens and that at its nearest it is nearly 1½ miles from the centre of Warnford.
The map below shows the route and main features adjacent to and through Warnford Parish. Please note that our map is only approximate – you should refer to the official maps on the project website for exact detail in relation to land boundaries.
There will be two work compounds in or adjacent to the Parish:
In Kilmeston Lane, between Rooksgrove Farm and Leighton House, on each side of the lane. (access for heavy vehicles from the A32 via Wheely Down Road)
In Joan's Acre Lane, on left approximately 300 metres from junction with Brockwood Bottom (access for heavy vehicles from the A272 via Brockwood Park Lane and Brockwood Bottom)
The pipeline will be laid by open trenching. Animations of the process are available on the project website.
The planned dates for construction in our area are as follows:
November/December 2021 – Tree and hedge clearance
March to July 2022 - Work compounds active
April to June 2022 - Trench dug and pipeline laid
September to November 2022 - Reinstatement, seeding and planting
Kilmeston Lane will be closed for a period during pipeline laying, as will the following public rights of way:
Warnford Footpath 9 behind Riversdown
Warnford Footpath 8 near Black House Farm
Farm Lane north of Riversdown Road
Exact timings of works and road and footpath closures will be notified to the Parish not less than two months in advance.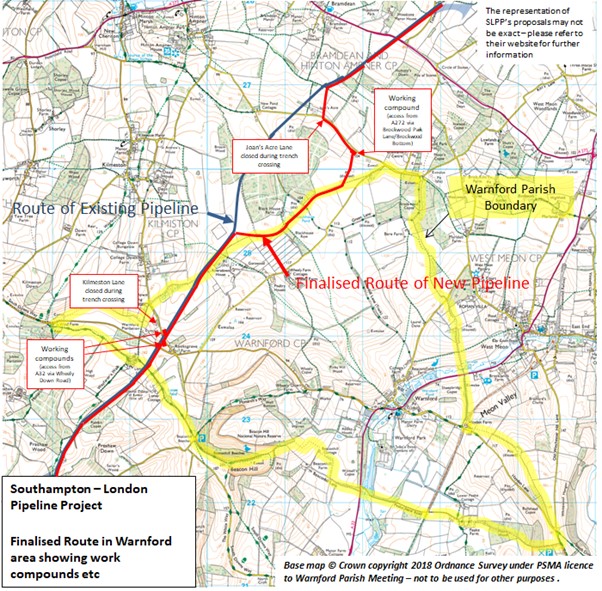 The pipeline comes up Betty Mundy's Bottom, crosses into Warnford parish at Lomer Farm, goes under Wheely Down Road and Kilmeston Road just west of Rooksgrove Farm and crosses the fields to pass from Warnford into Kilmeston parish behind Riversdown House. The new route turns eastward and crosses back into Warnford, running just inside the parish boundary south of Blackhouse Farm, across Farm Lane, then turning north and leaving the Parish heading towards Joan's Acre and Bramdean.